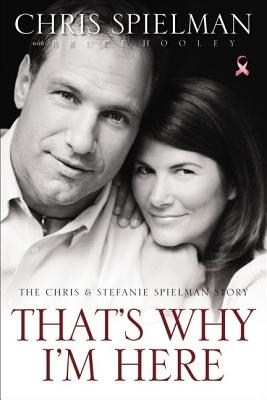 That's Why I'm Here: The Chris & Stefanie Spielman Story (Hardcover)
The Chris & Stefanie Spielman Story
Zondervan, 9780310336143, 224pp.
Publication Date: May 8, 2012
Description
Chris Spielman was a high school and Ohio State football legend and a four-time Pro Bowl linebacker, but he didn't tackle his toughest opponent until his playing career was almost over. In 1998 his wife Stefanie was diagnosed with breast cancer, and so began an 11-year journey that brought joy and suffering to the Spielmans, as well as hope and inspiration to thousands of others. In That's Why I'm Here, Spielman traces his storied career, recalls his courtship of Stefanie Belcher, cherishes the growth of their four children and invokes the deep spiritual faith that gave their family wisdom and comfort in times of struggle. Though there are plenty of on-the-field tales in the book, it's not just for football fans. It's for people whose lives have been touched by cancer, for people whose own faith has wavered, for people who want to meet a woman of tremendous beauty, grace and strength. Though Stefanie passed away on Nov. 19, 2009, her memory and inspiration live on. With laughter and tears, joy and heartbreak, this book lets you know her spirit is still here.
About the Author
Chris Spielman was the first high school athlete to appear on a Wheaties box, became a two-time All-American for the Ohio State Buckeyes, and remains one of the most popular players in school history. He went on to play eight seasons for the Detroit Lions in the NFL, earning a Pro-Bowl selection four times. When his wife Stefanie was diagnosed with breast cancer in 1998, Chris took a year off to be with her, and the two later created the Stefanie Spielman Fund for Breast Cancer Research. He currently hosts a daily sports radio show in Columbus, Ohio, and is well known as a college football analyst for ESPN.
Advertisement