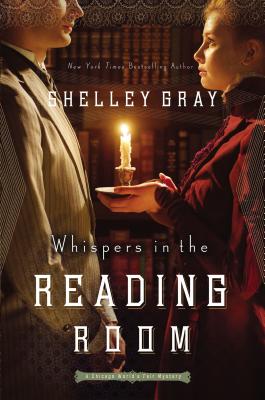 Whispers in the Reading Room (Chicago World's Fair Mystery #3)
Paperback

* Individual store prices may vary.
Other Editions of This Title:
Digital Audiobook (11/16/2020)
Description
Lydia's job at the library is her world--she never expected to be a suspect to a murder. And now she must rely on the one man she's not sure she can trust.
Just months after the closure of the Chicago World's Fair, librarian Lydia Bancroft finds herself fascinated by a mysterious dark-haired and dark-eyed patron. He has never given her his name; he actually never speaks to a single person. All she knows about him is that he loves books as much as she does.
Only when he rescues her in the lobby of the Hartman Hotel does she discover that his name is Sebastian Marks. She also discovers that he lives at the top of the prestigious hotel and that most everyone in Chicago is intrigued by him.
Lydia and Sebastian form a fragile friendship, but when she discovers that Mr. Marks isn't merely a very wealthy gentleman, but also the proprietor of an infamous saloon and gambling club, she is shocked.
Lydia insists on visiting the club one fateful night and suddenly is a suspect to a murder. She must determine who she can trust, who is innocent, and if Sebastian Marks--the man so many people fear--is actually everything her heart believes him to be.
"Shelley Gray writes a well-paced story full of historical detail that will invite you into the romance, the glamour . . . and the mystery surrounding the Chicago World's Fair." --Colleen Coble, USA Today bestselling author of Rosemary Cottage and the Hope Beach series
The Chicago World Fair Mystery series

Book 1--Secrets of Sloane House
Book 2--Deception on Sable Hill
Book 3--Whispers in the Reading Room

Book length: 86,000 words
Includes discussion questions for book clubs
Zondervan, 9780310338499, 352pp.
Publication Date: November 10, 2015
Is Sebastian Marks a hero? Why or why not?
What were some of Lydia's strengths? How did she prove to be a capable heroine for a novel set at the turn of the century?
All four main characters have spent most of their lives trying to find the right place to fit in. Do you think this is a common occurrence? Does everyone have to search at one time in his or her life?
The theme of friendship runs throughout the novel, even with Sergio Vlas. How did the need for friendship drive the characters' actions?
In what ways are Lydia and Sebastian alike? How are they a good match?
What did you think about Vincent Hunt?
One of my favorite things about the writing of this novel was the characters' love of literature and libraries. How have books enriched your life?
What do you think the future holds in store for Bridget and Vincent? What obstacles, if any, do you feel they will have to overcome?
Each character in the novel eventually comes to terms with the fact that they have been attempting to solve all their problems by themselves. How has prayer and faith helped you over the years?