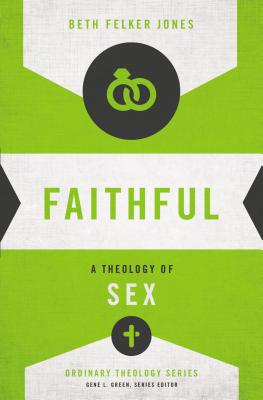 Faithful (Paperback)
A Theology of Sex (Ordinary Theology)
Zondervan, 9780310518273, 112pp.
Publication Date: May 5, 2015
* Individual store prices may vary.
Description
Many believers accept traditional Christian sexual morality but have very little idea why it matters for the Christian life. In Faithful, author Beth Felker Jones sketches a theology of sexuality that demonstrates sex is not about legalistic morals with no basis in reality but rather about the God who is faithful to us.
In Hosea 2:19-20 God says to Israel, "I will take you for my wife forever; I will take you for my wife in righteousness and in justice, in steadfast love, and in mercy. I will take you for my wife in faithfulness; and you shall know the Lord." This short book explores the goodness of sexuality as created and redeemed, and it suggests ways to navigate the difficulties of living in a world in which sexuality, like everything else, suffers the effects of the fall.
As part of Zondervan's Ordinary Theology series, Faithful takes a deeper look at a subject Christians talk about often but not always thoughtfully. This short, insightful reflection explores the deeper significance of the body and sexuality.
About the Author
Gene L. Green (PhD, Kings College, Aberdeen University) professor of New Testament at Wheaton College and Graduate School. Before coming to Wheaton in 1996, he served for over a decade as professor of New Testament as well as Academic Dean and Rector of the Seminario ESEPA in San Jose, Costa Rica. He is the author of two commentaries in Spanish, 1 Pedro y 2 Pedro (Caribe) and 1 y 2 Tesalonicenses (Portavoz), and English commentaries on 1 and 2 Thessalonians (Pillar Series, Eerdmans) and 2 Peter and Jude (BECNT, Baker). His special research interest is the intersection of the Christian faith and cultures, both ancient and contemporary. Gene has pastored and taught in churches in the United States and Latin America since 1972. He also serves on the board of John Stott Ministries. "