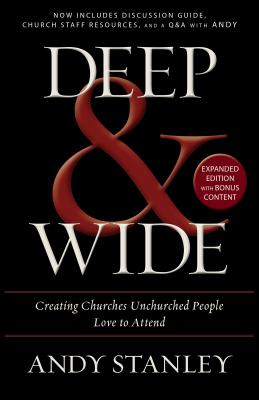 Deep and Wide
Creating Churches Unchurched People Love to Attend
Paperback

* Individual store prices may vary.
Other Editions of This Title:
Hardcover (9/18/2012)
MP3 CD (4/8/2014)
MP3 CD (8/13/2013)
Compact Disc (8/13/2013)
Compact Disc (8/13/2013)
Compact Disc (2/9/2016)
Description
Andy Stanley's bestselling and award-winning vision for the local church is now available in softcover. New bonus content includes a study guide, church staff helps, and an interview with Andy on the most frequently asked questions about Deep and Wide.
With surprising candor and transparency pastor Andy Stanley explains how one of America's largest churches began with a high-profile divorce and a church split.
But that's just the beginning...
Deep and Wide provides church leaders with an in-depth look into North Point Community Church and its strategy for creating churches unchurched people absolutely love to attend.
For the first time, Andy explains his strategy for preaching and programming to "dual audiences" mature believers and cynical unbelievers. He argues that preaching to dual audiences doesn't require communicators to "dumb down" the content. According to Stanley, it's all in the approach.
You'll be introduced to North Point's spiritual formation model: The Five Faith Catalysts. Leaders responsible for ministry programing and production will no doubt love Andy's discussion of the three essential ingredients for creating irresistible environments. For pastors willing to tackle the challenge of transitioning a local congregation, Andy includes a section entitled: Becoming Deep and Wide.
If your team is more concerned with who you are reaching than who you are keeping, the expanded edition of Deep & Wide will be more than a book you read; it will be a resource you come back to over and over
"Couldn't be prouder of my son, Andy. And I couldn't be more excited about the content of this book. I wish a resource like this existed when I was starting out in ministry."
- Dr. Charles Stanley, Founder, In Touch Ministries
"Deep and Wide pulls back the curtain for all of us to see what is required behind the scenes to build a prevailing church. I was both challenged and inspired by this book."
- Bill Hybels, author of Just Walk Across the Room
"The most common question I get from pastors is, 'How do I get the people in my church to be open to change?' From now on my answer will be, 'Read Deep and Wide by Andy Stanley'. Thanks Andy. Great book "
- Craig Groeschel, Pastor, LifeChurch.TV, author, It: How Churches and Leaders Can Get It and Keep It
"It is completely false that churches must sacrifice quality to get quantity, must artificially choose between evangelism and discipleship, or cannot have depth and growth at the same time. Few prove this fact better than the ministry of Andy Stanley, who has grown North Point Community Church on purpose and with passion. No Christian leader can afford to miss this book."
- Rick Warren, pastor, Saddleback Church; author, The Purpose Driven Church
Zondervan, 9780310526537, 400pp.
Publication Date: February 9, 2016
About the Author
Communicator, author, and pastor, Andy Stanley founded Atlanta-based North Point Ministries in 1995. Today, NPM is comprised of six churches in the Atlanta area, serving more than 36,000 people weekly, as well as a network of 30 churches around the globe. As host of NBC's Your Move with Andy Stanley, reaching over 36 million viewers in less than two years on the air, and author of 20-plus books including Ask It, How to Be Rich, Deep & Wide, Visioneering, and Next Generation Leader, he is considered one of the most influential living pastors in America. Andy Stanley and his wife, Sandra, have three grown children and live near Atlanta.