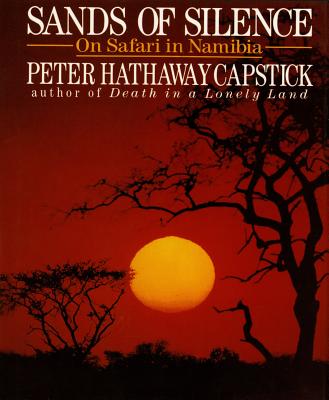 Sands of Silence: On Safari in Namibia (Hardcover)
On Safari in Namibia
St. Martin's Press, 9780312064594, 240pp.
Publication Date: October 15, 1991
* Individual store prices may vary.
or
Not Currently Available for Direct Purchase
Description
From the successor to Ruark and Hemingway comes the most lavishly illustrated, historically important safari ever captured in print.
Peter Hathaway Capstick journeyed on safari through Namibia in the African spring of 1989. This was a nation on the eve on independence, a land scorched by sun, by years of bitter war. In these perilous circumstances, Peter Capstick commences what is surely the most thrilling safari of his stories career. He takes the reader to the stark landscape that makes up the Bushmen's tribal territories. There, facing all kinds of risks, members of the chase pursue their quarry in a land of legend and myth. the result is an exciting big-game adventure whose underlying themes relate directly to the international headlines of today.
In this first person adventure, Capstick spins riveting tales from his travels and reports on the Bushmen's culture, their political persecution, and the Stone Age life of Africa's original hunter-gatherers. In addition, the author explains the economic benefits of the sportsman's presence, and how ethical hunting is a tool for game protection and management on the continent.
Not since "Peter Capstick's Africa "has the author taken the reader along on safari. In this superbly illustrated book, Capstick returns to the veld with an ace video cameraman and leading African wildlife photographer Dr. M. Philip Kahl. one hundred of Dr. Kahl's striking color photos capture perfectly life and death in the "land of thirst.
About the Author
After giving up a career on Wall Street, Peter Hathaway Capstick moved to South Africa, where he became a professional game hunter and acclaimed writer. He lived there with his wife Fiona, until his death in 1996.
Praise For Sands of Silence: On Safari in Namibia…
"Chatty, discursive, and splendidly forthright in his opinions, Capstick writes of a way of life fast disappearing but still immensely attractive."--Kirkus Reviews "Lively account of adventures amid stifling heat and dust."--Publishers Weekly "Capstick brings his considerable knowledge of Africa to this frank description of hunting in Bushland."--Library Journal
Advertisement