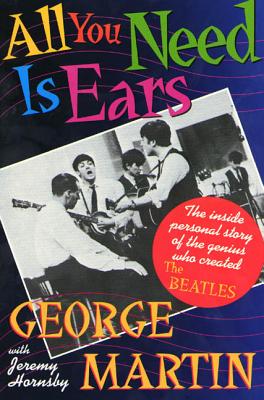 All You Need Is Ears
The Inside Personal Story of the Genius Who Created The Beatles
Paperback

* Individual store prices may vary.
Other Editions of This Title:
Paperback (4/27/2021)
Description
"George," he said, "I don't know if you'd be interested, but there's a chap who's come in with a tape of a group he runs. They haven't got a recording contract, and I wonder if you'd like to see him and listen to what he's got?"

"Certainly," I said, "I'm willing to listen to anything. Ask him to come and see me."

"O.K., I will. His name's Brian Epstein..."

All You Need Is Ears is the story of George Martin, the man who spotted the Beatles' talent, who recorded and produced them from the start, and who brought their musical ideas to life. In this witty and charming autobiography, he describes exactly what it was like to work in the studio with the Beatles--from the first audition (and his decision to scrap Pete Best on drums) to the wild experimentation of Sgt. Pepper (complete with sound effects, animal noises and full orchestras in evening dress at the direct request of Paul McCartney).

This is a singular look at the most important musical group of all time, and how they made the music that changed the world: No other book can provide George Martin's inside look at their creative process, at the play of genius and practical improvisation that gave them their sound; it is an indispensable read for Beatle lovers and anyone interested in the music world.
St. Martin's Griffin, 9780312114824, 304pp.
Publication Date: October 15, 1994
About the Author
Sir George Martin (1926-2016) was a legendary record producer, arranger and audio engineer. He is best known for working with the Beatles, among many other famous recording artists of the 20th Century. He was made a Commander of the British Empire in 1988 and was awarded a knighthood in 1996.

Based on the strength of his collaboration with actor Pete Murray (One Day I'll Forget My Trousers), George Martin brought Jeremy Hornsby on board as coauthor of his autobiography, All You Need is Ears.