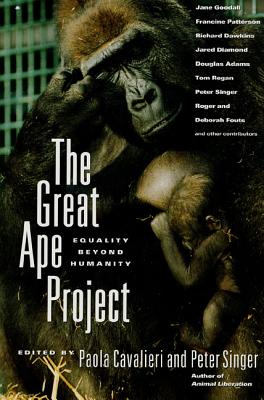 The Great Ape Project: Equality Beyond Humanity (Paperback)
Equality Beyond Humanity
St. Martin's Press, 9780312118181, 324pp.
Publication Date: January 1, 1995
Description
A compelling and revolutionary work that calls for the immediate extension of our human rights to the great apes.
"The Great Ape Project "looks forward to a new stage in the development of the community of equals, whereby the great apes-chimpanzees, gorillas, and orangutans-will actually receive many of the same protections and rights that are already accorded to humans.
This profound collection of thirty-one essays by the world's most distinguished observers of free-living apes make up a uniquely satisfying whole, blending observation and interpretation in a highly persuasive case for a complete reassessment of the moral status of our closest kin.
About the Author
Paola Cavalieri is the editor of the Milan-based quarterly review Etica e Animali.Peter Singer, the renowned philosopher and bioethicist, is the author of Animal Liberation, the classic work that helped launch the modern Animal Rights movement. He teaches at Monash University in Melbourne, Australia.
Praise For The Great Ape Project: Equality Beyond Humanity…
"We share over 99% of our active genes with chimpanzees and gorillas. The Great Ape Project casts a disturbing light on how we have treated our closest relative. It challenges us to reassess many of our ethical assumptions." --Carl Sagan, coauthor of Shadows of Forgotten Ancestors

"A powerful work of moral vision that manages to maintain a balance between logic and passion." --The Washington Post Book World (front page)

"A thoroughly engaging collection of polemics and reflections." --San Francisco Chronicle

"This book may prove to be one of the most subversive published in English this year." --The Independent

"What the contributors to The Great Ape Project remind us that our nearest cousins on the evolutionary tree...can suffer in ways very much like the ways in which we suffer...We can damage them in the way we damage human beings." --Alan Ryan, Professor of Politics, Princeton University
Advertisement