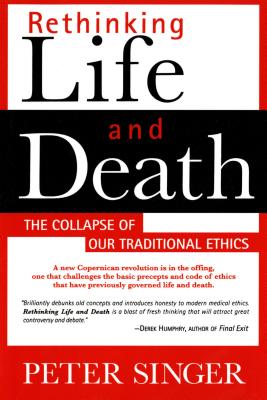 Rethinking Life and Death
The Collapse of Our Traditional Ethics
Paperback

* Individual store prices may vary.
Description
The new commandments according to Rethinking Life and Death.
--If you must take human life, take responsibility for the consequences of your decisions.
--All human life is not of equal worth; treat beings in accordance to the ethical situation at hand.
--Respect a person's desire to live or die.
A profound and provocative work, Rethinking Life and Death, in the tradition of Aldous Huxley's Brave New World, examines the ethical dilemmas that confront us as we near the twenty-first century.
Praise For Rethinking Life and Death: The Collapse of Our Traditional Ethics…
"Peter Singer . . . has probably has a larger popular readership than any professional philosopher since Bertrand Russell, and more success in effecting changes in acceptable behavior." —The New England Journal of Medicine
"Singer convincingly argues that [our traditional Western] definition [of death] is inadequate . . . he challenges the disjunction between our willingness to tolerate withdrawing means to sustain life and our rejection of measures . . . that would actively end it." —The New York Times Book Review
"Far from pointing a way out of today's moral dilemmas, Singer's book is a road map for driving down the darkest of moral blind alleys . . . Read it to remind yourself of the enormities of which putatively civilized beings are capable." —The Washington Post Book World
St. Martin's Griffin, 9780312144012, 272pp.
Publication Date: April 15, 1996
About the Author
Peter Singer, the renowned philosopher and bioethicist, is the author of Animal Liberation, the classic work that helped launch the modern Animal Rights movement. He teaches at Monash University in Melbourne, Australia.