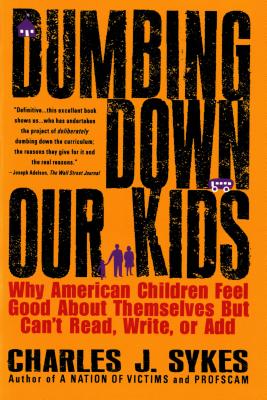 Dumbing Down Our Kids: Why American Children Feel Good about Themselves But Can't Read, Write, or Add (Paperback)
Why American Children Feel Good about Themselves But Can't Read, Write, or Add
St. Martin's Press, 9780312148232, 352pp.
Publication Date: September 5, 2000
Description
"Dumbing Down Our Kids" is a searing indictment of America's secondary schools-one that every parent and teacher should read.
"Dumbing Down Our Kids "offers a full-scale investigation of the new educational fad, sometimes called "Outcome Based Education" -the latest in a long series of "reforms" that has eroded our schools.
-Why our kids rank to, or at the bottom of international tests in math and science
-Why "self-esteem" has supplanted grades and genuine achievements
-How the educational establishment lowers standards and quality in our schools-while continuing to raise their budgets and our school taxes
-The dumbing down of the curriculum so everyone can pass-but no one excel
-How parents, students, and teachers can evaluate schools and restore quality learning.
About the Author
Charles Sykes is the author of three previous books, ProfScam, The Hollow Men, and A Nation of Victims. A journalist who specializes in educational issues, he has written for and is frequently quoted by newspapers including The New York Times, USA Today, and The Wall Street Journal. He has appeared on The Today Show, The Late Late Show with Tom Snyder, and NPR's Talk of the Nation to discuss schooling. A senior fellow at the Wisconsin Policy Research Institute, Sykes lives with his wife and three children in Milwaukee, Wisconsin.
Praise For Dumbing Down Our Kids: Why American Children Feel Good about Themselves But Can't Read, Write, or Add…
"This intelligent and devastating book...brings together every aspect of the current disaster...all in clear, well-researched detail." --The Boston Globe

"A spirited call-to-arms...Sykes asks brave questions." --Cleveland Plain Dealer

"A scathing critique that grabs America's educational establishment by the scruff and shakes it...Parents and visionary educators, if not educrats, should sit up and take notice." --Kirkus Review

"A very important book." --Washington Post Book World
Advertisement