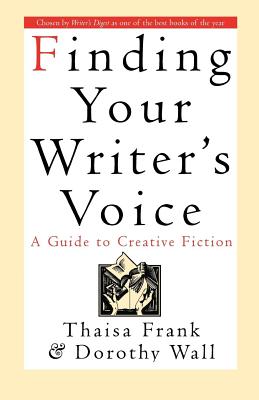 Finding Your Writer's Voice (Paperback)
A Guide to Creative Fiction
St. Martin's Griffin, 9780312151287, 256pp.
Publication Date: December 15, 1996
* Individual store prices may vary.
Description
An illuminating guide to finding one's most powerful writing tool, Finding Your Writer's Voice helps writers learn to hear the voices that are uniquely their own. Mixing creative inspiration with practical advice about craft, the book includes chapters on:
Accessing raw voice
Listening to voices of childhood, public and private voices, and colloquial voices
Working in first and third person: discovering a narrative persona
Using voice to create characters
Shaping one's voice into the form of a story
Reigniting the energy of voice during revision
About the Author
Thaisa Frank, author of three books of short fiction and a forthcoming novel, is a two-time PEN award winner, and contributing editor to The San Francisco Review. She has taught at San Francisco State, University of California at Berkeley, and currently teaches at the University of San Francisco.
Dorothy Wall
, poet and writing consultant, is also the author of numerous reviews and articles. She gives writing workshops and seminars, and has taught at San Francisco State University, Napa Valley College, and University of California at Berkeley, Extension. She lives in Oakland, California.
Praise For Finding Your Writer's Voice: A Guide to Creative Fiction…
"A valuable collection of helpful exercises, thought-provoking ideas, personal anecdotes, and tips." —Writers Connection
"The authors are saying many of the same things that Brenda Ueland did in If you Want to Write...but they're taking it further...A meaty little book...I came away from it aglow, in love (again!) with my quest as a writer." —T.J. Banks, The Writing Self