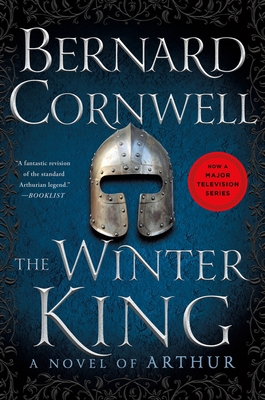 The Winter King
A Novel of Arthur (Warlord Chronicles #1)
Paperback

* Individual store prices may vary.
Description
It takes a remarkable writer to make an old story as fresh and compelling as the first time we heard it. With The Winter King, the first volume of his magnificent Warlord Chronicles, Bernard Cornwell finally turns to the story he was born to write: the mythic saga of King Arthur.
The tale begins in Dark Age Britain, a land where Arthur has been banished and Merlin has disappeared, where a child-king sits unprotected on the throne, where religion vies with magic for the souls of the people. It is to this desperate land that Arthur returns, a man at once utterly human and truly heroic: a man of honor, loyalty, and amazing valor; a man who loves Guinevere more passionately than he should; a man whose life is at once tragic and triumphant.
As Arthur fights to keep a flicker of civilization alive in a barbaric world, Bernard Cornwell makes a familiar tale into a legend all over again.
Praise For The Winter King: A Novel of Arthur (Warlord Chronicles #1)…
"Without smoke and mirrors, the magic in The Winter King is conjured within the human heart.." —People magazine
"Great battle scenes and brilliant political intrigue swirl about a cast of legendary but very human characters. The redoubtable Cornwell strikes again." —Kirkus Reviews (starred review)
"Cornwell takes us into the world of mystery, adventure, passion, and love with exquisite skill. This is a riveting, heart-topping tale that will enchant all those who read it." —Deepak Chopra
"The strength of the tale lies in the way Cornwell tells it through the creation of flesh-and-blood players who make a historical period come magically alive." —The Washington Post
St. Martin's Griffin, 9780312156961, 448pp.
Publication Date: April 15, 1997
About the Author
Bernard Cornwell, who has been called "one of the most accomplished storytellers now writing" (Kirkus Reviews) is the author of numerous international bestsellers, including the Sharpe series. He was born in Britain and now lives with his wife in Cape Cod.