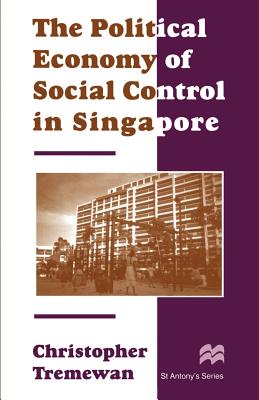 The Political Economy of Social Control in Singapore (St. Antony's Series) (Paperback)
Palgrave MacMillan, 9780312158651, 252pp.
Publication Date: April 29, 1996
Other Editions of This Title:
Paperback (1/1/1994)
Paperback (4/29/1996)
* Individual store prices may vary.
Description
The thesis presented here will not only change the way in which we understand contemporary Singaporean society and the relationship between the state and its citizens, but will also provoke a debate about the social costs of economic development in other parts of the world, and the future security of the island republic - increasingly a Chinese enclave in a Malay sea - in the twenty-first century.' - Peter Carey, Trinity College, Oxford This study examines the development of Singapore's complex system of social regulation in relation to the phases of its economic strategy and political transition. It focuses on the way social control works through public housing and welfare, education, parliamentary politics and the law. It draws out the implications of such comprehensive control for political conflict. Popular explanations for Singapore's success and its status as a model for other developing countries are brought into question.