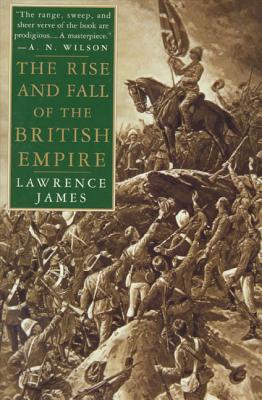 The Rise and Fall of the British Empire (Paperback)
Griffin, 9780312169855, 704pp.
Publication Date: September 15, 1997
Description
Great Britain's geopolitical role has undergone many changes over the last four centuries. Once a maritime superpower and ruler of half the world, Britain now occupies an isolated position as an economically fragile island often at odds with her European neighbors.
In The Rise and Fall of the British Empire, Lawrence James has written a comprehensive, perceptive, and insightful history of the British Empire. Spanning the years from 1600 to the present day, this critically acclaimed book combines detailed scholarship with readable popular history.
"This is a stylish, intelligent and readable book." --The New York Times Book Review
About the Author
Lawrence James studied History and English at York University and subsequently undertook a research degree at Merton College, Oxford. Following a career as a teacher, he became a full-time writer in 1985, and is the author of The Golden Warrior: The Life and Legend of Lawrence of Arabia, Imperial Warrior: The Life and Times of Field Marshal Viscount Allenby, and the acclaimed Raj: The Making and Unmaking of British India. He lives in St. Andrews, Scotland with his wife who is the headmistress of St. Leonard's School, and his two sons.
Praise For The Rise and Fall of the British Empire…
"This is a stylish, intelligent and readable book." -The New York Times Book Review

"A reliable, well-balanced and well-written account that should enlighen and entertain lay readers who wish to learn more about an empire that in its high noon was more extensive, more populous, and arguably more influential that that of Rome." --The Washington Post Book World

"There is not a dull page in thi book." --The Washington Times

"A sprawling and complex subject handled with admirable style and selectivity." --A.N. Wilson, author of Eminent Victories and Jesus: A Life

"An excellent work of popular history...fluid, accessible and personalized." --Booklist
Advertisement