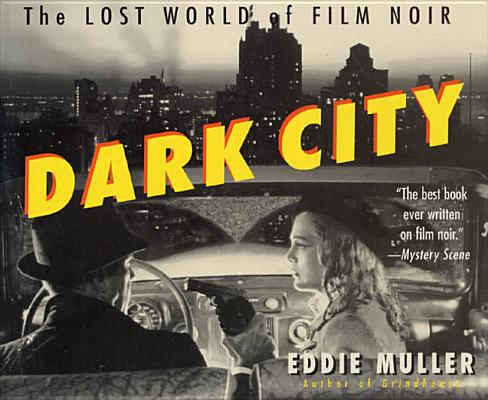 Dark City (Paperback)
The Lost World of Film Noir
St. Martin's Griffin, 9780312180768, 208pp.
Publication Date: May 15, 1998
* Individual store prices may vary.
Description
Welcome to Dark City, urban landscape of the imagination. A place where the men and women who created film noir often find themselves dangling from the same sinister heights as the silver-screen avatars to whom they gave life. Eddie Muller, who led readers on a guided tour of the seamier side of motion pictures in Grindhouse: The Forbidden World of 'Adults Only' Cinema, now takes us on a spellbinding trip through treacherous terrain: Hollywood in the post-World War II years, when art, politics, scandal, style--and brilliant craftsmanship--produced a new approach to moviemaking, and a new type of cultural mythology.
Dark City is a 1999 Edgar Award Nominee for Best Critical / Biographical Work.
About the Author
Eddie Muller, a writer and designer, is the creative director of St. Francis Studio, producing storytelling in all media. He co-authored Grindhouse (St. Martin's Griffin, 1996), a history of adults-only cinema in America, and his other books include Dark City Dames and The Art of Film Noir. He lives in the San Francisco Bay Area.
Praise For Dark City: The Lost World of Film Noir…
"The best book ever written on film noir." —Mystery Scene
"Eddie Muller seriously takes film noir not too seriously--just the right mix, and with great stills." —Paul Schrader
"Dark City is a thoroughly enjoyable companion to the unique, sometimes twisted pleasures of film noir, from acknowledged classics like Out of the Past to lesser-known gems like Born to Kill and The Chase. In a genre where some see mostly fatalism and social critique, Eddie Muller also finds humor, eroticism, and the unfettered inventiveness of an extraordinary generation of directors and actors." —Geoffrey O'Brien, author of The Phantom Empire
"This ultimate companion to gritty black-and-white postwar classics reveals that the dark stars led desperate, nefarious lives both on-screen and off." —Details
"Even if you aren't a film buff, you'll probably find Dark City compelling. . . . Muller's plot summaries and insider accoutns of moviemaking are fitting companions to the brooding images that accompany them." —the Washington Post
"A pictorial anthology on the American existentialist crime movie . . . rich in background anecdotes and the argot of the genre." —San Francisco Examiner
"Dig it: Eddie Muller's Dark City is a righteous, rip-snorting riff on the ultimate cinematic genre--film noir. This book displays a salutary knowledge of the underpinnings of the genre; serves as a fabulous reference book; and most importantly, dishes the real life dirt on the freaks, geeks, commies, nymphos, hopheads, has-beens, red-baiters, and all-purpose fiends who made this genre great." —James Ellroy
or
Not Currently Available for Direct Purchase