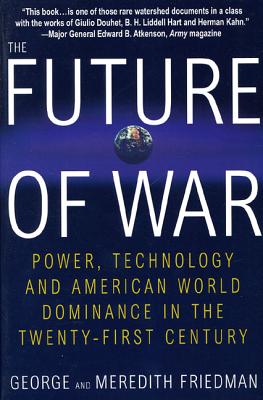 The Future of War (Paperback)
Power, Technology and American World Dominance in the Twenty-first Century
St. Martin's Griffin, 9780312181000, 272pp.
Publication Date: February 15, 1998
* Individual store prices may vary.
Description
The Future of War makes a brilliant case that the twenty-first century, even more than the twentieth, will be the American century, and that America's global dominance will be associated with a revolution in weaponry and warfare as basic as the one that arose with the development of gunpowder five hundred years ago. From the era of flintlocks and cannons to the day of automatic weapons and heavy artillery, the waging of war-while undeniably changing in many aspects-has continued to rely on the technology that began with the use of black powder to expel a projectile through a tube.
In The Future of War, the authors argue that this Age of Ballistics is ending and we are entering a fundamentally new period, the Age of Precision-Guided Munitions (PGMs), the so-called smart weapons that will antiquate the traditional way of making war. Where guns and artillery are inherently inaccurate and need to be fired thousands of times to hit one target, these new projectiles are precise and lethally efficient; while ballistic weapons platforms must be brought within range of the battlefield, PGMs can devastate from any distance.
The authors show how the innovations in weapons technology will affect America's defense strategies on land and sea, in air and in space, reshaping our military forces, while confronting us with new strategic challenges as America enters the twenty-first century as the dominant power on the globe.
About the Author
George Friedman is coauthor of The Coming War with Japan as well as numerous other books and articles on politics and international and military affairs. He is on the faculty of Tulane University in New Orleans and is chairman of Strategic Forecasting in Baton Rouge, which specializes in business intelligence and analysis.
Meredith Friedman was born and educated in Sydney, Australia, and moved to the United States in 1976. She is a freelance writer who has published on international affairs and other topics and was coauthor of The Coming War with Japan. She is a senior writer for Strategic Forecasting and manages research on business intelligence.
Praise For The Future of War: Power, Technology and American World Dominance in the Twenty-first Century…
"Revolution in modern warfare is upon us. George and Meredith Friedman have provided us an important insight into many of the critical elements of that revolution and their possible implications. There are no answers, but there is one certainty: It is in America's national interest to have the debate about where technology is taking us and to then resolutely put policies, doctrines, and budgets in place to protect our country. This book is an important element in that debate. I strongly recommend it." —Adm. Bill Owens, Ret. Vice Chairman of the Joint Chiefs of Staff
"We will be hearing a great deal more about this book as time goes on. It is one of those rare watershed documents in a class with the works of Giulio Douhet, B.H. Liddell Hart, and Herman Kahn. It is a benchmark . . . Competitors and critics alike will find themselves obliged to deal with it, one way or another." —Maj. Gen. Edward B. Atkenson, Army magazine