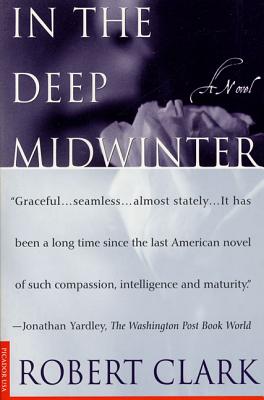 In the Deep Midwinter (Paperback)
A Novel
Picador, 9780312181147, 288pp.
Publication Date: January 15, 1998
* Individual store prices may vary.
Description
November, 1949: In the aftermath of his brother James's death, Richard MacEwan's life is suddenly rocked by secrets involving his wife Sarah and daughter Anna. Among his bachelor brother's papers, Richard discovers a letter from Sarah that hints at an infidelity. Then there is Anna's affair with a married man, Charles Norden, which threatens to change her life forever. The story of Richard, Sarah, Anna, and Charles--along with the troubling legacy of James--is one of faith and doubt, profound moral and spiritual conflict, and the intricate bonds that hold families together.
About the Author
Robert Clark is the author of the novels In the Deep Midwinter and Mr. White's Confession, and River of the West, a cultural history of the Columbia River (all Picador), and The Solace of Food, a biography of James Beard. A native of St. Paul, Minnesota, he lives in Seattle with his wife and two children.
Praise For In the Deep Midwinter: A Novel…
"The most absorbing, most intelligent and most wholly satisfying novel I've read in a good while--certainly since Richard Ford's Pulitzer-winning Independence Day . . . A beautiful and haunting novel of character." —Don Fry, Seattle Times
"In The Deep Midwinter comes along at a time when people have stopped talking about The Great American Novel. That's too bad, because this just might be it." —Kate Tuttle, The Boston Book Review
"Robert Clark . . . has an ear for dialogue that's pitch perfect and an impeccable eye for detail . . . A moving and provocative novel, In the Deep Midwinter marks a fine debut." —Ruth Coughlin, The New York Times Book Review
"Clark unfolds the story's moral dramas with rare assurance and grownup charity . . . In the Deep Midwinter not only shows how love can lead to suffering, but also, more interestingly, points out how suffering can lead to love." —Pico Iyer, Time