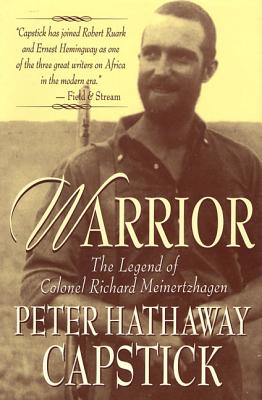 Warrior (Hardcover)
The Legend Of Colonel Richard Meinertzhagen
St. Martin's Press, 9780312182717, 320pp.
Publication Date: January 15, 1998
* Individual store prices may vary.
Description
Peter Hathaway Capstick died in 1996. At the time of his death, the world-renowned adventure writer was putting the finishing touches on this, a stirring and vivid biography of Colonel Richard Meinertzhagen, a man with whom he felt he had much in common. Edited and prepared for publication by his widow, Fiona Capstick, Warrior is Capstick's riveting farewell to his fans and the final addition to the bestselling Peter Capstick Library.
Colonel Richard Meinertzhagen was one of those rare men whom fate always seems to cast in the dramas that shape history. As a young officer, he served in India and Africa during the glory days of the British Empire, defending the crown's dominions and exploring its darkest reaches. His exploits in the bloody colonial wars of turn-of-the-century East Africa earned him a reputation as one of the most fierce and ruthless soldiers in the Empire, yet it was during those years spent roaming the silent places of the Serengeti, hunting its game and learning its secrets, that Meinertzhagen developed a fascination with Africa that would last a lifetime.
But there were other adventures to come, and Capstick narrates them all with his trademark skill and wit: daring commando raids against German forces in Africa and the Mideast during World War I, covert missions to the USSR and Nazi Germany between the wars, work as an OSS agent during World War II, and Meinertzhagen's ceaseless support of Israeli nationhood are all woven together into an epic adventure. Warrior: The Legend of Colonel Richard Meinertzhagen is a powerful chronicle that follows the tracks of a twentieth-century icon.
About the Author
Peter Hathaway Capstick (1940-1996), a former Wall Street stockbroker turned professional adventurer, was critically acclaimed as the successor to Hemingway and Ruark in African hunting literature. After giving up his career, the New Jersey native hunted in Central and South America before going to Africa in 1968, where he held professional hunting licenses in Ethiopia, Zambia, Botswana, and Rhodesia (now Zimbabwe). Capstick also served in that most perilous of trades—Elephant and Buffalo Cropping Officer. In addition to writing about hunting, he was also featured in an award-winning safari video and audio tapes.
Captstick settled in Pretoria, South Africa with his wife Fiona until his death at age 56.
Fiona Claire Capstick
was born in South Africa, where she became an officer in the armed forces, seconded to the military intelligence division as a multilingual translator and interpreter. She is currently serving as a sworn translator to the High Court of South Africa. Her late husband, Peter Hathaway Capstick, was the author of highly acclaimed safari accounts such as
Death in the Long Grass
and
Safari: The Last Adventure
.
Praise For Warrior: The Legend Of Colonel Richard Meinertzhagen…
"If high adventure teetering on the edge of abject terror is your bag, then Capstick is your man. Nobody does it better!" —Denver Post
"The master storyteller of African adventure..." —The Outdoor Journal
"Capstick is an exceptionally fine writer, capable of involving all of the reader's senses." —The Miami Herald