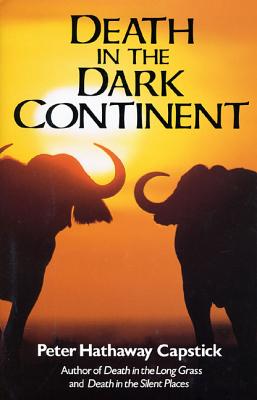 Death in the Dark Continent (Hardcover)
St. Martin's Press, 9780312186159, 256pp.
Publication Date: May 15, 1983
* Individual store prices may vary.
Description
Critically acclaimed as a master of adventure writing for Death in the Long Grass and Death in the Silent Places, former professional hunter Peter Capstick takes us back to Africa to encounter the world's most dangerous big-game animals. After consulting African game experts and recalling his own experiences and those of his colleagues, Capstick has written chilling, authoritative accounts of hunting the five most dangerous killers on the African continent-- lion, leopard, elephant, Cape buffalo and rhinoceros.
The classic big-game animals are unmatched as a test of a hunter's skill and courage. With a command of exciting prose, Capstick brings us along on the chase. The warning snarl of a crouching lion, the swish of grass that reveals a leopard, the enraged scream of a wounded elephant, the cloud of dust that marks a herd of Cape buffalo, the earthshaking charge of a rhino are recreated in heart-stopping, nerve-racking detail. In Death in the Dark Continent, Capstick brings to life all the suspense, fear and exhilaration of stalking ferocious killers under primitive, savage conditions, with the ever present threat of death.
About the Author
Peter Hathaway Capstick grew up in rural New Jersey and soon learned to love the outdoors and wildlife. After a career on Wall Street, he decided to heed his sense of adventure and become a professional hunter, first in the rain forests of Latin America and then in Central Africa. He now lives in Pretoria, South Africa, where he is a successful writer.
Praise For Death in the Dark Continent…
"Few writers have matched Capstick's flair for describing the hunt...in gruesome, realistic terms...A page-turner that is absorbingly spine-tingling."--Publishers Weekly on Death in the Long Grass

"This book had me on the edge of my seat...297 pages of spine-tingling yarns."--New York Times Book Review on Death in the Long Grass

"Thrilling and suspenseful reading...spine-tingling hunting adventure...a 4-Star book of 3-continent adventure."--The Outdoor Journal on Death in the Silent Places
or
Not Currently Available for Direct Purchase