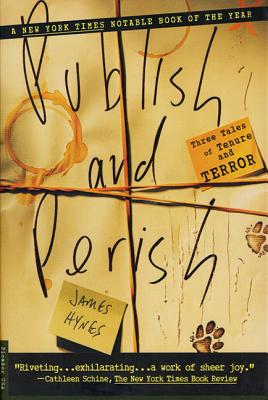 Publish and Perish (Paperback)
Three Tales of Tenure and Terror
Picador, 9780312186968, 352pp.
Publication Date: April 15, 1998
* Individual store prices may vary.
Description
A New York Times Notable Book of the Year
A Publisher's Weekly Best Book of the Year
Combining the wit of David Lodge with Poe's delicious sense of the macabre, these are three witty, spooky novellas of satire set in academia—a world where Derrida rules, love is a "complicated ideological position," and poetic justice is served with an ideological twist.
About the Author
James Hynes is the author of the novels The Lecturer's Tale and Wild Colonial Boy, as well as the stories Publish & Perish (all New York Times Notable Books of the Year). He lives in Austin, Texas.
Praise For Publish and Perish: Three Tales of Tenure and Terror…
"Entirely delightful . . . wickedly funny . . . There hasn't been a genuinely adroit novel of academic manners since Randall Jarrell's Pictures from an Institution." —Jonathan Yardley, The Washington Post Book World
"Original, droll, startling . . . Witty and penetrating: Hynes creates pungent satires of academic life while at the same time infusing them with genuine suspense and real terror." —Kirkus Reviews
"A perfect blend of dark comedy and the ghost story, reminiscent of the best of T. C. Boyle and the best of Poe." —David Treuer, The Minneapolis Star-Tribune
"Hynes must have struck a pact with the devil when he began writing these tales because their tone is perfect." —Maureen Corrigan, National Public Radio
"Riveting . . . exhilarating . . . a work of sheer joy." —The New York Times Book Review
"Deliciously creepy novellas . . . Hynes's writing is diamond sharp, revealing his characters' souls as surely as a Judgement Day angel." —Amy Waldman, People