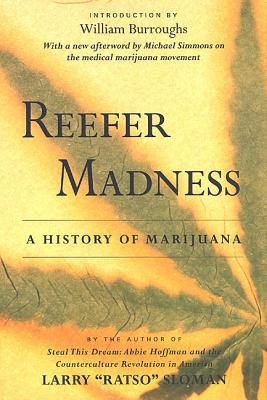 Reefer Madness
A History of Marijuana
Paperback

* Individual store prices may vary.
Description
Reefer Madness, a classic in the annals of hemp literature, is the popular social history of marijuana use in America. Beginning with the hemp farming if George Washington, author Larry "Ratso" Sloman traces the fascinating story of our nation's love-hate relationship with the resilient weed we know as marijuana.

Herein we find antiheroes such as Allen Ginsberg, Robert Mitchum (the first Hollywood actor busted for pot), Louis Armstrong (who smoked pot every day), the Beatles, and more rapscallions standing up for, supporting, smoking, and politicizing the bounties of marijuana.

With a new afterword by Michael Simmons, who has written for Rolling Stone, LA Weekly, and High Times, on the progress of the hemp movement and the importance of medical marijuana, Reefer Madness is a classic that goes on.
Praise For Reefer Madness: A History of Marijuana…
"Reefer Madness expertly and entertainingly charts the course of the killer weed from Colonial hemp crops to the present proliferation of pot as the biggest underground industry since bootleg booze." —Playboy

"Everything you always wanted to know about the history of grass in America--but were too stoned to ask." —Gene Schoenfeld, M.D. ("Dr. Hip"), author of Dear Dr. Hippocrates

"Ounce of ounce, Reefer Madness packs more highs than a pound of sinsemilla." —Frank Fioramonti, NORML board of directors

"The most objective, definitive book ever written on pot." —Pitt News
St. Martin's Griffin, 9780312195236, 472pp.
Publication Date: November 15, 1998
About the Author
Larry Sloman, a.k.a. "Ratso," is a Phi Beta Kappa and magna cum laude graduate in sociology. He has written for Rolling Stone and was editor-in-chief of High Times and National Lampoon. He collaborated with Howard Stern on the bestselling Miss America and Private Parts and is the author of a biography of Abbie Hoffman. He lives in New York City.
William S. Burroughs
was born in St. Louis in 1914. He is best-known work is 1959's
Naked Lunch
-which became the focus of a landmark 1962 Supreme Court decision that helped eliminate literary censorship in the United States. Described by Norman Mailer as one of America's few writers genuinely "possessed by genius," he died in 1997. His many other works include
Junky
and
The Place of Dead Roads
(Picador).
Michael Simmons is the author of four previous novels: Pool Boy, Vandal (both Roaring Brook titles), Finding Lubchenko, and The Rise of Lubchenko. He lives in New York, New York.