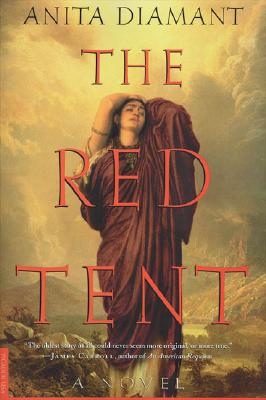 The Red Tent (Paperback)
Picador, 9780312195519, 336pp.
Publication Date: September 1, 1998
Other Editions of This Title:
Hardcover (9/1/1997)
Hardcover (8/21/2007)
Audio Cassette (11/1/2000)
Pre-Recorded Audio Player (8/1/2012)
* Individual store prices may vary.
Description
Her name is Dinah. In the Bible, her life is only hinted at in a brief and violent detour within the more familiar chapters of the Book of Genesis that are about her father, Jacob, and his dozen sons. Told in Dinah's voice, this novel reveals the traditions and turmoils of ancient womanhood--the world of the red tent. It begins with the story of her mothers--Leah, Rachel, Zilpah, and Bilhah--the four wives of Jacob. They love Dinah and give her gifts that sustain her through a hard-working youth, a calling to midwifery, and a new home in a foreign land. Dinah's story reaches out from a remarkable period of early history and creates an intimate connection with the past. Deeply affecting, The Red Tent combines rich storytelling with a valuable achievement in modern fiction: a new view of biblical women's society.
About the Author
Anita Diamant is an award-winning journalist and author of five books about contemporary Jewish life including "The New Jewish Wedding" and "Choosing a Jewish Life: Guidebook for People Converting to Judaism and for their Family and Friends." She lives in Newton, Massachusetts, with her husband and daughter.
Praise For The Red Tent…
"Diamant vividly conjures up the ancient world of caravans, shepherds, farmers, midwives, slaves, and artisans . . . her Dinah is a compelling narrator that has timeless resonance."--Merle Rubin, Christian Science Monitor

"An intense, vivid novel . . . It is tempting to say that The Red Tent is what the Bible would be like if it had been written by women, but only Diamant could have given it such sweep and grace."--The Boston Globe

"The best fiction reporters create a world and bathe us in its sounds and sights, its language and climate, the intricate relationships among its inhabitants. Anita Diamant has performed this wondrous craft: She has brought forth one of those books that appear effortless precisely because the writer has pondered even the length of breath between each character's words . . . This earthy, passionate tale, told also with great delicacy, is, quite simply, a great read."--Jane Redmont, National Catholic Reporter

"By giving a voice to Dinah, one of the silent female characters in Genesis, the novel has struck a chord with women who may have felt left out of biblical history. It celebrates mothers and daughters and the mysteries of the life cycle."--The Los Angeles Times

"A richly imagined world . . . Paints a vivid picture of what women's society might have resembled during biblical times. Although it is a novel, it is also an extended midrash or exegesis--filling in gaps left by the biblical text."--Jewish Times

"[A] vivid evocation of the world of Old Testament women . . . The red tent becomes a symbol of womanly strength, love, and wisdom . . . Diamant succeeds admirably in depicting the lives of women in the age that engendered our civilization and our most enduring values."--Publishers Weekly

"The oldest story of all could never seem more original, more true."--James Carroll, author of An American Requiem
or
Not Currently Available for Direct Purchase