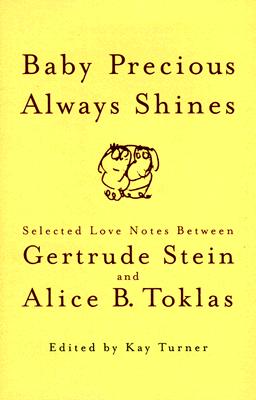 Baby Precious Always Shines: Selected Love Notes Between Gertrude Stein and Alice B. Toklas (Hardcover)
Selected Love Notes Between Gertrude Stein and Alice B. Toklas
St. Martin's Press, 9780312198329, 160pp.
Publication Date: December 1, 1999
* Individual store prices may vary.
or
Not Currently Available for Direct Purchase
Description
Off and on, during the entire period they were together, Gertrude and Alice wrote each other little love notes. Calling her "wifey" and most often addressing her as "baby precious," Stein scribbled her love for Toklas in quick moments of unselfconscious desire, notes that are small but significant testimonies to her long-lived love. And on occasion, Toklas penned or typed letters back to her "husband."

These notes are brief, mantra-like enticements: tender, beseeching, caring and confessing, funny and game, sexually-charged and sincere, quotidian and queer, but always passionate. Each one marks the pleasures--infrequently, the pains--of married love. When fitted together, the notes create a tantalizing mosaic of a marriage between two women that was built to last.
About the Author
Kay Turner holds a Ph.D. in Folklore and Anthropology from the University of Texas. Her work spans such subjects as the pop star Madonna, folk images of the Virgin Mary, folk art from recycled materials, lesbian rock bands, lesbian love letters, women's art, and feminism. In addition to writing, Turner works as a curator, graphic designer, and performer/songwriter in an all-woman band.
Praise For Baby Precious Always Shines: Selected Love Notes Between Gertrude Stein and Alice B. Toklas…
"Edited skillfully . . . These letters illuminate the inseparability of female creativity and profound relationships among women. These scraps and scrawls of love . . . are intrinsically helpful biographically." --Catharine R. Stimpson, The Women's Review of Books

"These 'precious' moments will delight the Steinophiles." --Minneapolis Star Tribune

"Turner has unearthed a treasury of ephemera . . . Erotic without being explicit, affectionate but not schmaltzy, these notes are a testament to a physical, enduring love. What better way to start the new century than with a record of one of the great lesbian couples of the previous one." --Sarah Chinn, The Advocate

"The collection makes a convincing case for Toklas's assertion that 'notes are a very beautiful form of literature' --personal, provocative, and tender." --Kirkus Reviews

"Fans and scholars will greet [this collection] with the enthusiasm of an anthropologist discovering the ledger books of a lost tribe . . . These behind-the-scenes materials reveal a relationship much more complex than an imitation heterosexual marriage." --Library Journal

"At last, what I always longed for, an intimate and revealing portrait of Gertrude Stein and Alice Toklas's relationship, painted by the couple themselves. That should put an end to the question: but what can two women do together? Along with Kay Turner's informative and provocative introduction, these letters will fascinate all Stein scholars and aficionados." --Esther Newton, author of Cherry Grove, Fire Island and Mother Camp

"Spontaneous, playful, and decidedly physical, the love notes between Gertrude and Alice offer delight after delight. They afford us a privileged, close look at the mutual desire and devotion of the two most famous lesbians of the twentieth century. Kay Turner's insightful introduction illuminates the genius of their reinvention of marriage and makes clear how deeply rooted Stein's body of writing is in the steady daily intimacy of their shared life. A gem of a book." --Joan Larkin, author of Cold River and editor of A Woman Like That

"Baby Precious gleams from the stunning title to the final photo of Gertrude, Alice, Basket the poodle, and Pepe the Chihuahua. Reflective of one of the twentieth century's great love stories, the collection makes a significant contribution to our understanding of the relation between the aesthetic and the erotic, the literary and the quotidian, in the particular context of lesbian self-fashioning." --Elizabeth Meese, author of (Sem)Erotics: Theorizing Lesbian: Writing and (Ex)Tensions: Re-Figuring Feminist Criticism

"Gertrude Stein--that progenitor of modernism and master of the elliptical--has been, for almost a century, a writer of endless surprise and astonishment. The resonance and meaning embedded in her seemingly guileless wordplay (which is anything but guileless) still startles and astounds. Brimming with love and cunning, wit and affection, Baby Precious Always Shines is Stein at her most resplendently transgressive and splendid." --Michael Bronski, author of The Pleasure Principle: Sex, Backlash, and the Struggle for Gay Freedom

"The love notes between Stein and Toklas, collected here by Kay Turner for the first time, offer us a glimpse into the mysteries, from the glorious to the mundane, of the Stein-Toklas marriage. The "blessed wifey" and her "little hubby" exchange kisses, caesars, and cows, and they make and remake a love that speaks its name over and over again, never tiring of the repetition. Baby Precious provides a new bottom line on Stein scholarship. This slim volume will keep Stein enthusiasts busy for years." --Judith Halberstam, author of The Drag King Book and Female Masculinity

"Without shame or judgment, Kay Turner opens this crucial archive of intimacy, in which high modernism meets lesbian domesticity. Both Gertrude and Alice's notes and Turner's compelling introduction give debates about marriage--both gay and straight--a new turn, as they testify to the surprising secrets of love's daily rituals and its ephemeral documents." --Ann Cvetkovich, author of Mixed Feelings: Feminism, Mass Culture, and Victorian Sensationalism
Advertisement