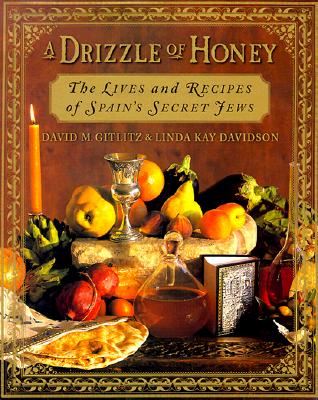 A Drizzle of Honey
The Life and Recipes of Spain's Secret Jews
Hardcover

* Individual store prices may vary.
Other Editions of This Title:
Paperback (9/1/2000)
Description
When tens of thousands of Iberian Jews were converted to Catholicism under duress during the Inquisition, many rapidly assimilated to their new religious culture. Others, the crypto-Jews, struggled to retain their Jewish identity in private while projecting Christian conformity in the public sphere. In order to root out these "heretics," the courts of the Inquisition published checklists of Jewish household habits and koshering practices and grilled the servants, neighbors, and even the children of those suspected of practicing their religion at home.

From these testimonies and other primary sources, Gitlitz and Davidson have drawn a fascinating picture of the secret culinary life of the crypto-Jews and the customs and foods that threatened their existence while securing their precarious sense of identity. From nearly a hundred specific references to Sephardic cuisine, the authors have recreated these recipes. They combine Christian and Islamic traditions in cooking lamb, beef, fish, eggplants, chickpeas, and greens and use seasonings such as saffron, mace, ginger, and cinnamon. These recipes, with accompanying text that tells the stories of their creators, promise to delight the adventurous palate and give insights into the foundations of modern Sephardic cuisine.
St. Martin's Press, 9780312198602, 332pp.
Publication Date: January 1, 1999
About the Author
David and Linda Kay Davidson are professors at the University of Rhode Island. They are married and each has written several books on Spanish culture, including Gitlitz's "Secrecy and Deceit," an alternate selection of the History Book Club and winner of the 1996 National Jewish Book Award for Sephardic Studies and the 1997 Lucy B. Dawidowicz Prize for History.
or
Not Currently Available for Direct Purchase