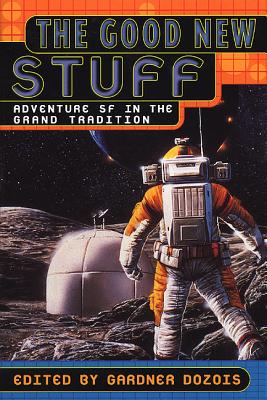 The Good New Stuff: Adventure in SF in the Grand Tradition (Paperback)
Adventure in SF in the Grand Tradition
St. Martins Press-3pl, 9780312198909, 480pp.
Publication Date: January 1, 1999
Description
Once the mainstay of science fiction, adventure stories fell out of favor during the 1960s and early 1970s. But in recent years, science fiction writers have spun out galaxy-spanning adventures as imaginative and wonderful as any of yesteryear's tales. Renowned editor Gardner Dozois assembles seventeen such escapades here, with stories from today's and tomorrow's finest writers, including:
Stephen Baxter, Tony Daniel, R. Garcia y Robertson, Peter F. Hamilton, Janet Kagan, George R. R. Martin, Paul J. McAuley, Maureen F. McHugh. G. David Nordley, Robert Reed, Mary Rosenblum, Bruce Sterling, Michael Swanwick, George Turner, John Varley, Vernor Vinge, Walter Jon Williams
These stories brim with the exciting thrills our universe offers us-- alien landscapes, unimagined realms, life unlike any we have known before, and that mysterious realm known as the human soul. "The Good New Stuff" shows that they really do still write 'em like that.
About the Author
Gardner Dozois is the longtime editor of Asimov's Science Fiction magazine and of the annual Year's Best Science Fiction anthologies. He has been honored many times with the Hugo Award for best editor, and his own short fiction has garnered two Nebula Awards. He lives in Philadelphia.
Praise For The Good New Stuff: Adventure in SF in the Grand Tradition…
"Dozois once again unites a magnificent gamut of epic storytellers into one volume that travels beyond the outermost galaxies and stirs the emotional foundations of the human condition."-- Bookpage, on The Year's Best Science Fiction

"Dozois is to the 1980s and 1990s what John W. Campbell, Jr., was to the 1940s and 1950s-- the finest editor in the world of short SF."--Publisher's Weekly
Advertisement