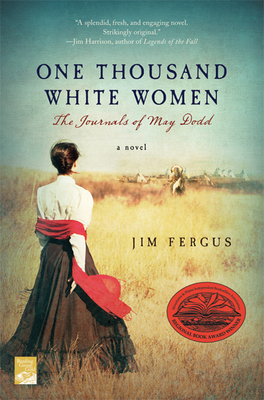 One Thousand White Women
The Journals of May Dodd (One Thousand White Women Series #1)
Paperback

* Individual store prices may vary.
Other Editions of This Title:
Digital Audiobook (3/31/2007)
Paperback (8/1/2017)
Mass Market (7/31/2018)
Compact Disc (5/7/2006)
Compact Disc (4/1/2006)
Hardcover (3/1/1998)
Description
Based on an actual historical event but told through fictional diaries, this is the story of May Dodd—a remarkable woman who, in 1875, travels through the American West to marry the chief of the Cheyenne Nation.

One Thousand White Women begins with May Dodd's journey into an unknown world. Having been committed to an insane asylum by her blue-blood family for the crime of loving a man beneath her station, May finds that her only hope for freedom and redemption is to participate in a secret government program whereby women from "civilized" society become the brides of Cheyenne warriors. What follows is a series of breathtaking adventures—May's brief, passionate romance with the gallant young army captain John Bourke; her marriage to the great chief Little Wolf; and her conflict of being caught between loving two men and living two completely different lives.

"Fergus portrays the perceptions and emotions of women…with tremendous insight and sensitivity."—Booklist

"A superb tale of sorrow, suspense, exultation, and triumph." —Winston Groom, author of Forrest Gump
Praise For One Thousand White Women: The Journals of May Dodd (One Thousand White Women Series #1)…
"A most impressive novel that melds the physical world to the spiritual. One Thousand White Women is engaging, entertaining, well-written, and well-told. It will be widely read for a long time, as will the rest of Jim Fergus's work." —Rick Bass, author of Where the Sea Used to Be

"Jim Fergus knows his country in a way that's evocative Dee Brown and all the other great writers of the American West and its native peoples. But One Thousand White Women is more than a chronicle of the Old West. It's a superb tale of sorrow, suspense, exultation, and triumph that leaves the reader waiting to turn the page and wonderfully wrung out at the end." —Winston Groom, author of Forrest Gump

"The best writing transports readers to another time and place, so that when they reluctantly close the book, they are astonished to find themselves returned to their everyday lives. One Thousand White Women is such a book. Jim Fergus so skillfully envelops us in the heart and mind of his main character, May Dodd, that we weep when she mourns, we shake our fist at anyone who tries to sway her course, and our hearts pound when she is in danger." —Colorado Springs Gazette

"An impressive historical...terse, convincing, and affecting." —Kirkus Reviews
St. Martin's Griffin, 9780312199432, 496pp.
Publication Date: February 15, 1999
About the Author
Jim Fergus is the author of One Thousand White Women, The Sporting Road, A Hunter's Road and Wild Girl. His articles and essays have appeared in a wide variety of national magazines and newspapers, including Newsweek, Newsday, The Paris Review, Esquire, Sports Afield, and Field & Stream. Fergus was born in Chicago and attended Colorado College. He worked as a teaching tennis professional before becoming a full-time freelance writer. He lives in southern Arizona.
1. The Cheyenne are often referred to as "savages," even by the women who voluntarily travel to live among them. During this time period, what is it that makes the Cheyenne savage, and the white "civilized"? Are there ways in which you would judge the Cheyenne in the novel are more civilized than the whites? Are there ways in which you consider them less civilized?
2. Were you surprised that Little Wolf, the Cheyenne chief, was so aware and seemingly resigned to the fact that his culture was doomed? How does this differ from our attitudes and assumptions as United States citizens?
3. Did you admire May Dodd's rebelliousness? Did you find it shocking that she would leave her children behind? Do you consider her a sympathetic character?
4. Did you find it believable that the US government might undertake a covert project such as the "Brides for Indians" program? Do you think the author had more modern history in mind when he developed this idea?
5. Were you surprised by elements of the Cheyenne Culture as depicted here?
6. Do you think that the Cheyenne culture was respectful of women? Consider what might seem contradictory elements – for example, it is a matrilineal society, and yet warriors could have multiple wives.
7. Compare what the Cheyenne culture valued in women compared with what white culture at the time valued in women. Contrast Captain Bourke's fiancée, Miss Lydia Bradley, with May Dodd. In what way do May and Lydia represent different types of women? In what ways have cultural expectations of women changed since this time period, and in what ways have they remained the same?
8. Did you find it believable that the white women embraced the Cheyenne culture, and willingly married with them?
9. Compare your concept of romantic love, and married love, with the relationship that develops between May and Little Wolf.
10. Were you surprised by the violence among tribes as depicted here? Did it contrast with your understanding of Native American cultures? What similarities were there between the violence among tribes, and the violence between whites and Native Americans?
11. While depicting the slaughter of Native American culture, Jim Fergus also portrays the imminent decimation of the natural landscape. Consider both tragedies. Were they equally inevitable? Are they equally irreversible?