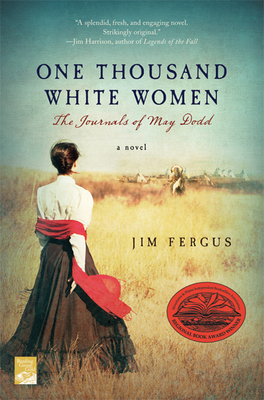 One Thousand White Women (Paperback)
The Journals of May Dodd (One Thousand White Women Series #1)
St. Martin's Griffin, 9780312199432, 496pp.
Publication Date: February 15, 1999
Other Editions of This Title:
Digital Audiobook (3/31/2007)
Paperback (8/1/2017)
Paperback (7/31/2018)
Hardcover, Large Print (6/5/2013)
Compact Disc (5/7/2006)
Hardcover (3/1/1998)
Compact Disc (4/1/2006)
* Individual store prices may vary.
Description
One Thousand White Women is the story of May Dodd and a colorful assembly of pioneer women who, under the auspices of the U.S. government, travel to the western prairies in 1875 to intermarry among the Cheyenne Indians. The covert and controversial "Brides for Indians" program, launched by the administration of Ulysses S. Grant, is intended to help assimilate the Indians into the white man's world. Toward that end May and her friends embark upon the adventure of their lifetime. Jim Fergus has so vividly depicted the American West that it is as if these diaries are a capsule in time.
About the Author
Jim Fergus is the author of One Thousand White Women, The Sporting Road, A Hunter's Road and Wild Girl. His articles and essays have appeared in a wide variety of national magazines and newspapers, including Newsweek, Newsday, The Paris Review, Esquire, Sports Afield, and Field & Stream. Fergus was born in Chicago and attended Colorado College. He worked as a teaching tennis professional before becoming a full-time freelance writer. He lives in southern Arizona.
Praise For One Thousand White Women: The Journals of May Dodd (One Thousand White Women Series #1)…
"A most impressive novel that melds the physical world to the spiritual. One Thousand White Women is engaging, entertaining, well-written, and well-told. It will be widely read for a long time, as will the rest of Jim Fergus's work." —Rick Bass, author of Where the Sea Used to Be
"Jim Fergus knows his country in a way that's evocative Dee Brown and all the other great writers of the American West and its native peoples. But One Thousand White Women is more than a chronicle of the Old West. It's a superb tale of sorrow, suspense, exultation, and triumph that leaves the reader waiting to turn the page and wonderfully wrung out at the end." —Winston Groom, author of Forrest Gump
"The best writing transports readers to another time and place, so that when they reluctantly close the book, they are astonished to find themselves returned to their everyday lives. One Thousand White Women is such a book. Jim Fergus so skillfully envelops us in the heart and mind of his main character, May Dodd, that we weep when she mourns, we shake our fist at anyone who tries to sway her course, and our hearts pound when she is in danger." —Colorado Springs Gazette
"An impressive historical...terse, convincing, and affecting." —Kirkus Reviews
One Thousand White Women was written by a man, but in a woman's point of view. Did you find this convincing?
In 1875, rebellious or unorthodox women were sometimes considered "hysterical" or insane. Is this still true in some circumstances today?
Does May Dodd remind you of a modern-day woman?
What would be today's equivalent of traveling west to an unknown part of the country with a group of strangers?
Did you feel the Native Americans were accurately portrayed in the novel?
If the "Brides for Indians" program were actually put into effect in 1875, do you feel it would have been effective?
What circumstances would prompt you to undergo a journey like the one May Dodd took?
Do you consider One Thousand White Women a tragic story? If so, why? If not, why not?
Of the supporting female characters, who did you find the most likeable?
Were any of May Dodd's actions unsympathetic? Would you find it difficult to leave your children behind in order to escape a horrendous situation?