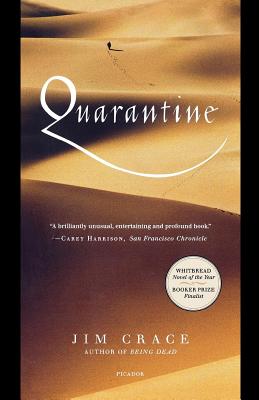 Quarantine (Paperback)
St. Martins Press-3pl, 9780312199517, 256pp.
Publication Date: September 5, 2000
Description
Winner of the Whitbread Novel of the Year and a Booker finalist: a controversial novel of faith and mystery about a group of desert travellers and their encounter with Jesus
"Quarantine "is Jim Crace's imaginative and powerful retelling of Christ's fabled 40-day fast in the desert. In Crace's account, Jesus travels to a cluster of arid caves where he crosses paths with a small group of exiles who are on a pilgrimage to find redemption. One wealthy and manipulative quarantiner recognizes characteristics in Christ that he believes are divine. Evoking the strangeness and beauty of the desert landscape, Crace provocatively interprets one of our most important stories.
About the Author
Jim Crace is the author of Continent, The Gift of Stones, Arcadia, Signals of Distress, Being Dead, and most recently The Devil's Larder. He has won the Whitbread First Novel Prize, the E. M. Forster Award, and the GAP International Prize for Literature. His novels have been translated into fourteen languages. He lives in Birmingham, England, with his wife and two children.
Praise For Quarantine…
"Remarkable . . . The effect is almost hallucinatory."—Frank Kermode, The New York Times Book Review

"Stunning . . . extraordinary . . . One of the freshest and most inventive novelistic uses of biblical material I have read."—Minneapolis Star Tribune

"A spiritual mystery of the best kind . . . Crace is a master at creating a convincing landscape out of evocative, earthy details . . . The creation of an ambitious imagination . . . A literary miracle."—USA Today

"A superb book . . . It succeeds thanks to Crace's potent, imaginative rendering of the characters and the setting, and because of its distinctive, lilting language."—Time Out New York

"Immensely impressive . . . This novel is a high-wire act, a tour de force, a garment expertly tailored from materials of the highest quality."—Bruce Bawer, The Washington Post Book World
Advertisement