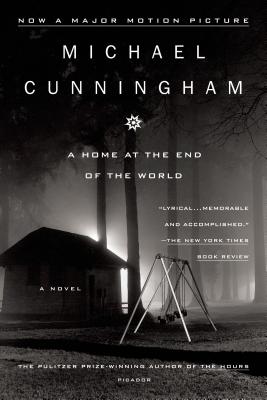 A Home at the End of the World (Paperback)
A Novel
Picador, 9780312202316, 352pp.
Publication Date: November 15, 1998
Other Editions of This Title:
Digital Audiobook (6/30/2004)
Digital Audiobook (6/30/2004)
Paperback (7/1/2004)
Compact Disc (7/1/2004)
Compact Disc (7/1/2004)
* Individual store prices may vary.
Description
From Michael Cunningham, the Pulitzer Prize-winning author of The Hours, comes this widely praised novel of two boyhood friends: Jonathan, lonely, introspective, and unsure of himself; and Bobby, hip, dark, and inarticulate. In New York after college, Bobby moves in with Jonathan and his roommate, Clare, a veteran of the city's erotic wars. Bobby and Clare fall in love, scuttling the plans of Jonathan, who is gay, to father Clare's child. Then, when Clare and Bobby have a baby, the three move to a small house upstate to raise "their" child together and, with an odd friend, Alice, create a new kind of family. A Home at the End of the World masterfully depicts the charged, fragile relationships of urban life today.
About the Author
MICHAEL CUNNINGHAM is the author of the novels A Home at the End of the World, Flesh and Blood, Specimen Days, By Nightfall, and The Snow Queen, as well as the collection A Wild Swan and Other Tales, and the nonfiction book Land's End: A Walk in Provincetown. He is the recipient of a Whiting Award and a Guggenheim Fellowship, and his work has appeared in The New Yorkerand The Best American Short Stories. The Hours was a New York Times bestseller, and the winner of both the PEN/Faulkner Award and the Pulitzer Prize. Raised in Los Angeles, Michael Cunningham lives in New York City, and is a senior lecturer at Yale University.
Praise For A Home at the End of the World: A Novel…
"Lyrical . . . Memorable and accomplished." —The New York Times Book Review
"Novels don't come more deeply felt than Cunningham's extraordinary four-character study . . . The writing [is] a constant pleasure, flowing and yet dense with incisive images and psychological nuance." —Matthew Gilbert, The Boston Globe
"The story of Jonathan, Clare, Bobby, and Alice is also the story of the 70's and 80's in America--and vice versa. It is destined to last." —David Leavitt, author of The Marble Quilt
"Cunningham has written a novel that all but reads itself." —The Washington Post Book World
"Once in a great while, there appears a novel so spellbinding in its beauty and sensitivity that the reader devours it nearly whole, in great greedy gulps, and feels stretched sore afterwards, having been expanded and filled. Such a book is [this one]." —Sherry Rosenthal, San Diego Tribune
"Luminous with the wonders and anxieties that make childhood mysterious . . . A Home at the End of the World is a remarkable accomplishment." —Laura Frost, San Francisco Review
"Brilliant and satisfying . . . As good as anything I've read in years . . . Hope in the midst of tragedy is a fragile thing, and Cunningham carries it with masterful care." —Gayle Kidder, San Diego Union
"Exquisitely written . . . Lyrical . . . An important book." —Charleston Sunday News and Courier
"Cunningham writes with power and delicacy . . . We come to feel that we know Jonathan, Bobby, and Clare as if we lived with them; yet each one retains the mystery that in people is called soul, and in fiction is called art." —Richard Eder, The Los Angeles Times