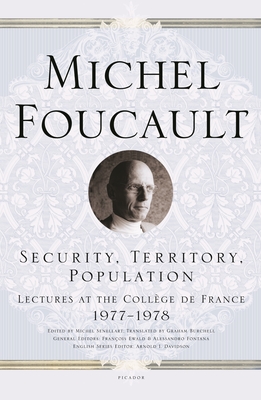 Security, Territory, Population
Lectures at the Collège de France 1977--1978 (Michel Foucault Lectures at the Collège de France #6)
Paperback

* Individual store prices may vary.
Description
Marking a major development in Foucault's thinking, this book takes as its starting point the notion of "biopower," studying the foundations of this new technology of power over populations. Distinct from punitive disciplinary systems, the mechanisms of power are here finely entwined with the technologies of security. In this volume, though, Foucault begins to turn his attention to the history of "governmentality," from the first centuries of the Christian era to the emergence of the modern nation state--shifting the center of gravity of the lectures from the question of biopower to that of government. In light of Foucault's later work, these lectures illustrate a radical turning point at which the transition to the problematic of the "government of self and others" would begin.
Praise For Security, Territory, Population: Lectures at the Collège de France 1977--1978 (Michel Foucault Lectures at the Collège de France #6)…
"Foucault must be reckoned with by humanists, social scientists, and political activists." —The New York Times Book Review

"Foucault has an alert and sensitive mind that can ignore the familiar surfaces of established intellectual codes and ask new questions.... [He] gives dramatic quality to the movement of culture." —The New York Review of Books

"Foucault is quite central to our sense of where we are. . . . [He carries] out, in the noblest way, the promiscuous aim of true culture." —The Nation
Picador, 9780312203603, 464pp.
Publication Date: February 3, 2009
About the Author
Michel Foucault (1926-1984) was acknowledged as the preeminent philosopher of France in the 1970s and 1980s, and continues to have enormous impact throughout the world in many disciplines.

His books include The Government of Self and Others, The Courage of Truth, The Birth of Biopolitics, and The Punitive Society.
...
Graham Burchell (Translator) is the translator, and has written essays on Michel Foucault. He is an Editor of The Foucault Effect.
...
Arnold I. Davidson (Editor) is the Robert O. Anderson Distinguished Service Professor at the University of Chicago, and Professor of the History of Political Philosophy at the University of Pisa. He is co-editor of the volume Michel Foucault: Philosophie. He lives in Chicago.