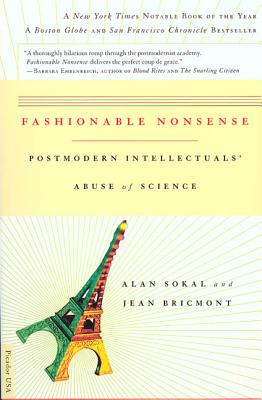 Fashionable Nonsense (Paperback)
Postmodern Intellectuals' Abuse of Science
Picador, 9780312204075, 320pp.
Publication Date: October 29, 1999
* Individual store prices may vary.
Description
In 1996, Alan Sokal published an essay in the hip intellectual magazine Social Text parodying the scientific but impenetrable lingo of contemporary theorists. Here, Sokal teams up with Jean Bricmont to expose the abuse of scientific concepts in the writings of today's most fashionable postmodern thinkers. From Jacques Lacan and Julia Kristeva to Luce Irigaray and Jean Baudrillard, the authors document the errors made by some postmodernists using science to bolster their arguments and theories. Witty and closely reasoned, Fashionable Nonsense dispels the notion that scientific theories are mere "narratives" or social constructions, and explored the abilities and the limits of science to describe the conditions of existence.
About the Author
Alan Sokal is a professor of physics at New York University.
Jean Bricmont is a theoretical physicist with the Université de Louvaine in Belgium.
Praise For Fashionable Nonsense: Postmodern Intellectuals' Abuse of Science…
"Although Sokal and Bricmont focus on the abuse and misrepresentation of science by a dozen French intellectuals, their book broaches a much larger topic--the uneasy place of science and understanding of scientific rationality in contemporary culture." —Thomas Nagel, The New Republic

"An excellent discussion . . . a plea for a sensible understanding of science and a welcome antidote to irrationality." —Simon Moss, Houston Chronicle