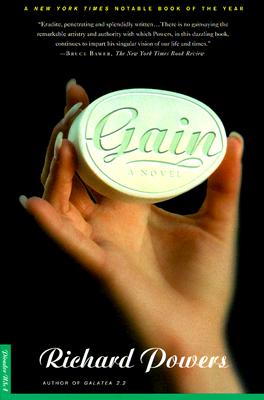 Gain (Paperback)
Picador, 9780312204099, 368pp.
Publication Date: June 1, 1999
Other Editions of This Title:
Paperback (9/29/2009)
Hardcover (6/1/1998)
* Individual store prices may vary.
Description
A "New York Times" Notable Book of the Year
"Gain" tells two parallel stories: one, of Laura Bodey, divorced mother of two and successful real-estate agent in the small town of Lacewood, Illinois, who one day discovers that she has ovarian cancer; and two, of Clare Soap & Chemical, the company begun by three merchant brothers in 19th-century Boston, which by the turn of the century has grown into a large multiconglomerate with factories in Laura's hometown. As the history of Clare Soap changes through the history of America, so a modern-day Laura Bodey descends into a battle with her terminal illness. By the novel's conclusion, we have learned how the largest enterprises affect us on the most personal level.
About the Author
Richard Powers is a MacArthur Fellow and the author of "Three Farmers On Their Way to a Dance," "Prisoner's Dilemma," "The Gold Bug Variations," the National Book Award-nominated "Operation Wandering Soul, Galatea 2.2," nominated for the National Book Critics Circle Award, "Plowing the Dark, "and, most recently, "The Time of Our Singing." He lives in Illinois.
Praise For Gain…
"Erudite, penetrating and splendidly written . . . There is no gainsaying the remarkable artistry and authority with which Powers, in this dazzling book, continues to impart his singular vision of our life and times."—Bruce Bawer, The New York Times Book Review

"With Gain, Richard Powers launches his own strong bid for entry into the canon of America's best novelists, delivering a work both epic in scope and universal in emotional resonance."—David B. Livingston, Detroit Free Press

"What is most remarkable about this novel—and, indeed, about the body of Powers's work so far—is how much life is in it, and how much intelligence . . . I can think of no American novelist of his generation who makes a stronger [case]—that the writing of novels is a heroic enterprise, and perhaps even a matter of life and death."—A. O. Scott, The New York Review of Books

"Mr. Powers clearly has done extensive research on the development of industry in the U.S., and his prose is rich with memorable images and sharp observations on industry and society."—Elizabeth Bukowski, The Wall Street Journal

"Ambitious . . . The most accessible and straightforward of Powers' novels thus far . . . The most emotionally affecting work Powers has done to date."—Michiko Kakutani, The New York Times

"Brilliantly observed . . . Powers is a writer of blistering intellect; he has only to think about a subject and the paint curls off. He is a novelist of ideas and a novelist of witness, and in both respects he has few American peers . . . [Gain] is a blast at the destruction, ecological and otherwise, wrought by the Bonnie-and-Clyde-like partnership between American technology and American capitalism."—Richard Eder, The Los Angeles Times Sunday Book Review

"Richard Powers has created a rare thing: a contemporary business novel that is also an important work of fiction. At once an insightful history of American capitalism, a formula-wielding primer on soapmaking (yes, that's right), and an intimate portrait of a woman who is dying of ovarian cancer, Gain is a demanding volume that will leave readers marveling at the author's erudition and troubled over the apparent price of civilization."—Hardy Green, Business Week

"This is a harrowing and powerful novel, uncompromising in its depiction."—Joan Mellen, The Baltimore Sun

"Gain consists equally of horizon-busting breadth of knowledge and excruciating depth of vulnerability . . . Powers hovers impossibly between extremes with a tightrope walker's perfect balance. He may be at once the smartest and most warm-hearted novelist in America today."—Melvin Jules Bukiet, The Chicago Times

"An acclaimed, accredited genius . . . There are many moments when the ideas absolutely dazzle."—Adam Begley, The New York Observer

"Richard Powers has proven himself a visionary writer . . . Throughout Gain there are dreamy, uncannily accurate little paragraphs on the Promethean messianism of corporate America."—Greil Marcus, The San Francisco Examiner & Chronicle

"Subtle, provocative, and powerful . . . Richard Powers' deceptively simple and terrifyingly effective novel Gain says it better than anyone has in a long time: buyer beware."—Rick Moody, Village Voice Literary Supplement

"The elements of a major novel, and Gain only confirms that Powers is, in fact, a major American novelist."—Adam Kirsch, The New Republic
or
Not Currently Available for Direct Purchase