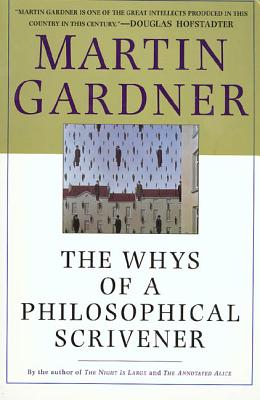 The Whys of a Philosophical Scrivener (Paperback)
St. Martins Press-3pl, 9780312206826, 496pp.
Publication Date: August 1, 1999
Description
The Whys of a Philosophical Scrivener showcases Martin Gardner as the consummate philosopher, thinker, and great mathematician that he is. Exploring issues that range from faith to prayer to evil to immortality, and far beyond, Garnder challenges the discerning reader with fundamental questions of classical philosophy and life's greater meanings.
Recalling such philosophers was Wittgenstein and Arendt, The Whys of Philosophical Scrivener embodies Martin Garner's unceasing interest and joy in the impenetrable mysteries of life.
About the Author
Martin Gardner born in 1914, is regular reviewer for The New York Review of Books and was a Scientific American columnist for over twenty-five years. He lives in Hendersonville, North Carolina.
Praise For The Whys of a Philosophical Scrivener…
"Gardner [is]...at the glorious zenith of his diversified powers."--The Boston Globe
"Martin Gardner is one of the greatest intellects produced in this country in this century."]
--Douglas Hofstadter

"For more than half a century, Martin Gardner has been the single brightestbeacone defending rationality and good science...He is also one of the most brilliant men and gracious writers that I have known." --Stephen Jay Gould

"Martin Gardner is that rarest of all contemporary species: a scholar in nobody's pocket; a sparkling, pellucid science and mathematics writer who can discuss Sigmund Freud, Sherlock Holmes, and proofs of God with equal fluency." --Stefan Kanfer, former book editor of Time Magazine

"Martin Gardner's contribution to contemporary culture is unique." --Noam Chomsky
Advertisement