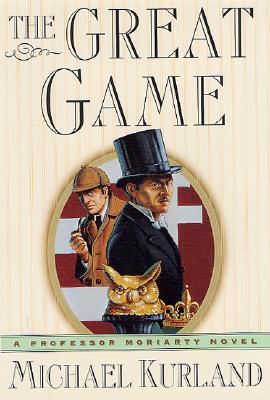 The Great Game
A Professor Moriarty Novel
Hardcover

* Individual store prices may vary.
Other Editions of This Title:
Paperback (2/1/2003)
Description
Labeled the "Napoleon of Crime" by an obsessed Sherlock Holmes, Professor James Moriarty is a prominent scientist, a keen analytical mind, and a dabbler in less than savory doings. Two friends and former associates of Moriarty - Benjamin Barnett and his wife, the former Cecily Perrine - are travelling in Europe in early 1891 when they realize that they have become objects of scrutiny from persons unknown. Things turn deadly when they find themselves in the midst of an attempted assassination of a German prince. Meanwhile in Vienna, the younger son of a British nobleman - indulging in what was then known as "The Great Game" of amateur spying - finds himself framed for the murder of his paramour and the assassination of an Austrian Duke. In London, an unknown caller arrives at Moriarty's door on a matter of great urgency. But before Moriarty can be summoned to speak with him, the stranger is shot by a crossbow bolt loosed by unseen hands.

While a lesser man might be daunted, Moriarty is merely intrigued and begins to investigate. What Moriarty uncovers is a cabal that seems to be using assassination to destabilize the rule of the crowned heads of Europe. But he also senses that there is something even bigger than this operating - a conspiracy behind the conspiracy - and detects the workings of a mind quite possibly as clever as his own. Using his contacts, friends, and the not-so-desired help of his often nemesis Sherlock Holmes, Moriarty must save his friends and outwit his most cunning opponent while the fate of history hangs in the balance.
Minotaur Books, 9780312208912, 288pp.
Publication Date: August 1, 2001
or
Not Currently Available for Direct Purchase