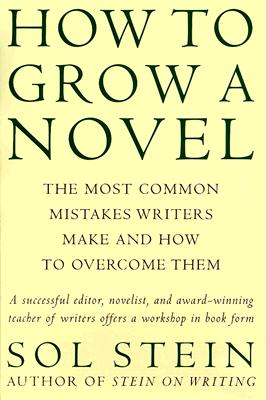 How to Grow a Novel: The Most Common Mistakes Writers Make and How to Overcome Them (Hardcover)
The Most Common Mistakes Writers Make and How to Overcome Them
St. Martin's Press, 9780312209490, 288pp.
Publication Date: December 1, 1999
* Individual store prices may vary.
or
Not Currently Available for Direct Purchase
Description
Each year thousands of fiction writers, from beginners to bestselling author, benefit from Sol Stein's sold-out workshops, featured appearances at writers' conferences, software for writers, on-line columns, and his popular first book for writers, Stein on Writing. Stein practices what he teaches: He is the author of nine novels, including the million-copy bestseller The Magician, as well as editor of such major writers as James Baldwin, Jack Higgins, Elia Kazan, Budd Schulberg, W. H. Auden, and Jacques Barzun, and the teacher and editor of several current bestselling authors. What sets Stein apart is his practical approach. He provides specific techniques that speed writers to successful publication.

How to Grow a Novel is not just a book, but an invaluable workshop in print. It includes details and examples from Stein's editorial work with a #1 bestselling novelist as well as talented newcomers. Stein takes the reader backstage in the development of memorable characters and fascinating plots. The chapter on dialogue overflows with solutions for short-story writers, novelists, screenwriters, and playwrights. Stein shows what readers are looking for-- and what they avoid-- in the experience of reading fiction. The book offers guidelines-- and warnings-- of special value for nonfiction writers who want to move into fiction. Stein points to the little, often overlooked things that damage the writer's authority without the writer knowing it. And this book, like no other writing book, takes the reader behind the scenes of the publishing business as it affects writers of every level of experience, revealing the hard truths that are kept behind shut doors.
About the Author
In 1999, a distinguished panel convened by the Modern Library published a list of the 100 best nonfiction works of the century. Two books edited by Sol Stein were in the top half of that list. Stein was in his twenties when his play "Napoleon" won the Dramatists Alliance award as "the best full-length play of 1953." He is the author of nine novels, which have made bestseller lists as far away as Moscow. He is also an anthologized poet, the author of nonfiction books, screenplays, and TV dramas, and the creator of the award-winning computer software WritePro(R), as well as FirstAid for Writers(R) and FictionMaster(R). Webster Schott, writing in the "New York Times Book Review," said of Stein's novel "The Magician," "Beautiful and gripping. I cannot recall a novel of this type with greater pleasure." On another occasion, the "Times" said, "If you bury yourself in a Sol Stein book while walking, you'll walk into a wall."

Stein has lectured on creative writing at Columbia, Iowa, UCLA, and the University of California at Irvine, which presented him with the Distinguished Instructor Award in 1993. His on-line columns appear on America Online, the Writers Club on the World Wide Web, and elsewhere on the Internet.
Praise For How to Grow a Novel: The Most Common Mistakes Writers Make and How to Overcome Them…
"Stein on Writing is the best book on writing that I have read."--Barnaby Conrad, author of Matador (3 million copies sold) and Learning to Write Fiction from the Masters

"[Sol Stein] went over my manuscript with an infallible eye for the soft spots in my prose, giving me one of the best editorial readings I've ever had."--Lionel Trilling

"My publisher Sol Stein was my producer, and my editor Sol Stein was my director. Sol saw what I didn't think possible."--Elia Kazan
Advertisement