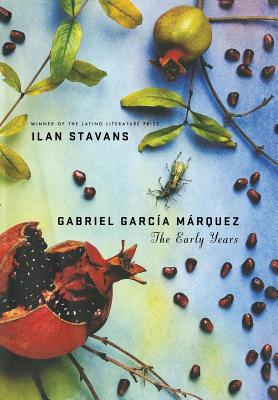 Gabriel Garcia Marquez: The Early Years (Hardcover)
The Early Years
Palgrave MacMillan, 9780312240332, 237pp.
Publication Date: January 5, 2010
Description
This long-awaited biography provides a fascinating and comprehensive picture of Garcia Marquez's life up to the publication of his classic "100 Years of Solitude." Based on nearly a decade of research, this biographical study sheds new light on the life and works of the Nobel Laureate, father of magical realism, and bestselling author in the history of the Spanish language. As Garcia Marquez's impact endures on well into his ninth decade, Stavans's keen insights constitute the definitive re-appraisal of the literary giant's life and corpus. The later part of his life will be covered in a second book.
About the Author
Ilan Stavans is the Lewis-Sebring Professor in Latin American and Latino Culture and Five College Fortieth Anniversary Professor at Amherst College. His books include The Hispanic Condition, On Borrowed Words, Spanglish, Dictionary Days, The Disappearance, and A Critic's Journey. He has edited the three-volume set Isaac Bashevis Singer: Collected Stories, The Poetry of Pablo Neruda, and, most recently, the anthology Becoming Americans: Four Centuries of Immigrant Writing. He is the recipient of numerous awards and honors, including a Guggenheim Fellowship, Chile's Presidential Medal, and the Jewish Book Award. Stavans's work, translated into a dozen languages, has been adapted to the stage and screen, including the movie My Mexican Shivah. He also hosted the syndicated PBS television show Conversations with Ilan Stavans.
Praise For Gabriel Garcia Marquez: The Early Years…
Praise for Gabriel García Márquez
"An engaging, informative study tracking the small beginnings of a literary giant and his magnum opus...Stavans enlightens us, not just about one literary figure, but about the culture and history of a whole hemisphere... Stavans is a magical writer himself." -- Julia Alvarez, author of How the Garcia Girls Lost Their Accents and In the Time of the Butterflies, and Once Upon A Quinceañera: Coming of Age in the USA
"Stavan's style is clear and accessible, amazing detailed yet magnetically mesmerizing. He's a wonderfully skilled writer exploring the world of Garcia's Marquez's life and times-- what shaped his aesthetics, the forces that honed his social sensibilities and his literary influences; extraordinary-- a must-read." – Jimmy Santiago Baca, author of A Glass of Water
"Ilan Stavans offers a vivid and humane account of Gabriel García Márquez and his world in the first four decades of his life, from the banana trains of his native Aracataca and the Caribbean...to his experience as a journalist in Europe, his belief in Hemingway's power as a writer, and the surprise of One Hundred Years of Solitude and of his sudden emergence as a world-famous writer who would win the Nobel Prize." – Werner Sollors, author of Beyond Ethnicity and Henry B. and Anne M. Cabot Professor of English Literature and Professor of African and African American Studies, Harvard University
Reading Ilan Stavans's Gabriel Garcia Marquez, The Early Years, I was reminded of Chekhov's observation that if you write a story about a man, a woman, and a beetle, the story is always about a man and a woman. In his compelling narrative of Garcia Marquez before the phenomenon of One hundred Years of Solitude, Ilan Stavans takes us on a fascinating guided tour of the great man's world from childhood to maturity, along the way, collecting the objects and the subjects, the beetles and the battles, all that would eventually coalesce into the vision of plenitude contained in one of the most influential novels in modern literary history. – Judith Ortiz Cofer, author of The Latin Deli and Regents' and Franklin Professor of English, University of Georgia
Ilan Stavans has given us a wondrous rendering of Gabriel Garcia Marquez, who always wanted to be a magician, and ended up creating a magical kingdom in a tiny Caribbean town. Stavans displays his own magical hand in this muscular portrait of Garcia Marquez as a young man. – Jerome Charyn, author of The Secret Life Emily Dickinson
Praise for Ilan Stavans
:
 "One of the most influential figures in Latino literature in the United States."--
The New York Times

"Ilan Stavans is an intellectual force to reckon with."--
The Philadelphia Inquirer
"Ilan Stavans beautifully demonstrates that the best way to suggest the extraordinary is through the ordinary."--
The Boston Globe

"Ilan Stavans has emerged as Latin America's liveliest and boldest critic and most innovative cultural enthusiast."--
The Washington Post
Advertisement