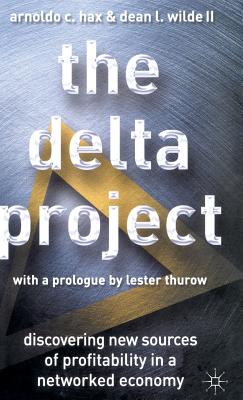 The Delta Project
Discovering New Sources of Profitability in a Networked Economy
Hardcover

* Individual store prices may vary.
Other Editions of This Title:
Hardcover (3/23/2001)
Description
Drawing from the authors' work with companies such as Coca-Cola, Motorola, 3M, General Motors, and Unilever, "The Delta Project" provides a unique model through which to develop strategy in the new economy. Arnoldo Hax and Dean Wilde examine how globalization, deregulation and the emergence of the internet infrastructure have changed the rules for success and identify three distinct strategic positions that can be used to realign the direction of your business. Introducing new models of "bonding," "complementors" and "customer lock-in" this book provides a fundamental shift in the way we think about competitive positioning.
Praise For The Delta Project: Discovering New Sources of Profitability in a Networked Economy…
"There has never been a better time for rethinking how one does strategic thinking and fortunately we have Hax and Wilde to chart the way--to take us on a voyage of exploration." —Lester Thurow, from Prologue, Sloan School of Management, MIT

"The ability to build strategic clarity and define the practical business action shines through in The Delta Project." —Niall FitzGerald, Chairman, Unilever PLC

"The work by the authors in strategy development has been a 'must read' for me for many years and an invaluable resource to every organization I have been associated with... With the technology evolutions of the past five years, this new work has taken on more importance to ensure that a business strategy is relevant to the times." —Hector Ruiz, President and CEO, Advanced Micro Devices
Palgrave MacMillan, 9780312240462, 278pp.
Publication Date: October 11, 2001
About the Author
ARNOLDO HAX is the Alfred P. Sloan Professor of Management at the Sloan School of Management of the Massachusetts Institute of Technology. He has wide consulting experience, working with companies such as Merck, EDS, Saturn, Coca-Cola, Digital Equipment Corporation, Motorola, General Motors, Citibank, Prime Computer, Searle Analog Devices, Westinghouse Electric, Unilever, 3M, and Brown Boveri. DEAN WILDE is the founder and Chairman of Dean & Company - a strategy consulting and investment firm that focuses upon industries in transition. Previously he was a Director and member of the Board of Directors at Mercer Management Consulting and Executive Vice President of Strategic Planning Associates.