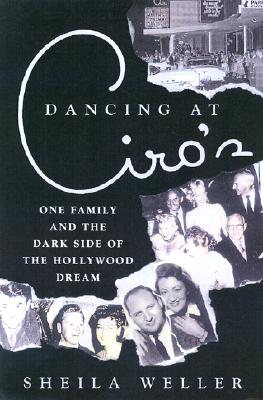 Dancing at Ciro's: A Family's Love, Loss, and Scandal on the Sunset Strip (Hardcover)
A Family's Love, Loss, and Scandal on the Sunset Strip
St. Martin's Press, 9780312241766, 288pp.
Publication Date: February 1, 2003
* Individual store prices may vary.
or
Not Currently Available for Direct Purchase
Description
In 1958, young Sheila Weller was living a charmed life with her family in Beverly Hills. Her father was a brilliant and charismatic brain surgeon. Her mother was a movie-magazine writer whose brother owned Hollywood's most dazzling nightclub, Ciro's. Then Sheila Weller's world exploded. After she witnessed her uncle's frenzied physical assault on her father, a whole store of family secrets and dramas unfolded, rivaling those that transpired in the nightclub's dressing room and banquettes every night.

Weller has written a deeply felt memoir of her family's richly accomplished but ultimately tragic life, contrasted with those most glamorous days of Hollywood's golden era. While vividly describing Lana Turner's, Frank Sinatra's, and Sammy Davis Jr.'s evenings---and breakdowns---at Ciro's, she captures a whole subgroup of American dreamers: the New York Jews who bounded from Brooklyn to Broadway and finally to Hollywood. They expected that success and proximity to glamour would erase centuries of anxiety and melancholy---but often discovered they'd only found a higher ledge from which to fall.

Weller seamlessly weaves a history of the American nightclub into the saga of an unforgettable family that, while fatally flawed, is never whiny or "dysfunctional." The dreamy grandeur of Hollywood in the forties and the dark tensions of the fifties come alive through the pages and through the characters, for whom love---and the very idea of family---is almost biblically tested, but never quite extinguished.
About the Author
Sheila Weller is the author of many books including the" New York Times" bestseller "Raging Heart: The Intimate Story of the Tragic Marriage of O. J. and Nicole Brown Simpson." She is a senior contributing editor at "Glamour "and has written for "New York, Vanity Fair, The Village Voice," "Self," "Redbook," and "Rolling Stone." She lives in New York City.
Advertisement