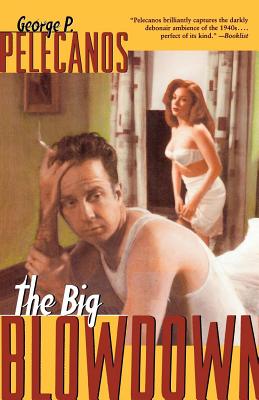 The Big Blowdown
Paperback

* Individual store prices may vary.
Description
For Joey Recevo and Pete Karras, two kids from one of Washington's rougher neighborhoods, the easiest work to find after the War is all criminal---providing a little muscle for a local boss. But Karris is soft on his fellow immigrants, and the boss can't let his mob get soft, so one of his boys gives Karras a painful lesson.

Three years later, it's the same mob that figures big Nick Stefanos's grill needs protection---and this decision will once again bring Joey and Pete face-to-face. In this final confrontation, the two of them will find the meaning of friendship, the heart of honor, and the cost of both.

Powerfully told, elegantly wrought, George P. Pelecanos's The Big Blowdown is a knockout.
Praise For The Big Blowdown…
"He is among the finest ten or twelve novelists working in the U.S. today. . . . [a] Balzacian figure so intent upon rendering this nation's whole ramshackle, impossible urban life over the past half-century." —James Sallis, from his introduction

"Pelecanos writes hard-boiled prose full of music and pain, like he just might be in charge of saving his characters' souls. The Big Blowdown is his `Once Upon a Time in D.C.'---a big book with drive and savagery, and elegance too." —Jonathan Lethem, author of Motherless Brooklyn

"A charged page-turner . . . With stylistic panache and forceful conviction, Pelecanos delivers a darkly powerful story of the American city." —Publishers Weekly [starred review]

"Pelecanos's books get into your blood like a shot and a beer after a third shift. Definitely my favorite writer working today." —Peter Farrelly, author of Outside Providence

"A snazzy Lincoln Zephyr of a novel." —Les Whitten, Washington Post Book World

"Bold and broad-shouldered, a crime epic filled with passionate characters and the gritty life of the street. . . . Pelecanos lifted me from my chair and hurled me right into the mean D.C. streets of the 1950s. Bravo!" —T. Jefferson Parker, author of The Blue Hour

"One of those writers whose books I would never miss." —Harlan Ellison, author of Mephisto in Onyx

"To miss out on Pelecanos would be criminal." —Barry Gifford, author of Wild at Heart
Minotaur Books, 9780312242916, 320pp.
Publication Date: September 24, 1999
About the Author
George P. Pelecanos is the author of novels including Nick's Trip, The Sweet Forever, King Suckerman, and Shame the Devil. He lives and works in the Washington, D.C., environs.