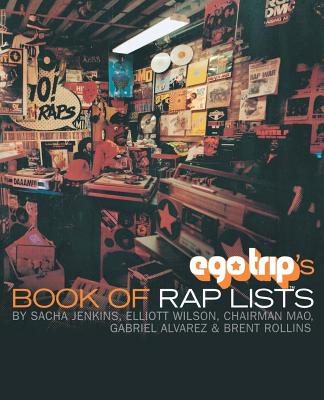 Ego Trip's Book of Rap Lists
Book of Rap Lists
Paperback

* Individual store prices may vary.
Description
Ego Trip's Book of Rap Lists is more popular than racism!
Hip hop is huge, and it's time someone wrote it all down. And got it all right. With over 25 aggregate years of interviews, and virtually every hip hop single, remix and album ever recorded at their disposal, the highly respected Ego Trip staff are the ones to do it. The Book of Rap Lists runs the gamut of hip hop information. This is an exhaustive, indispensable and completely irreverant bible of true hip hip knowledge.
Praise For Ego Trip's Book of Rap Lists: Book of Rap Lists…
"You hold in your hands a powerful tool, a document rich in humor and obsessive devotion. Packed with history and compulsively readable, Ego Trip's Book of Rap Lists is bound to spark as many arguments as it settles. Buy the damn thing." —Joe Levy, Music Editor, Rolling Stone
"A must-have for any rap aficionado." —Russell Simmons
"Fearlessly funny, encyclopedic in scope, and sure to start more beef than Oscar Mayer, this book-like everything Ego Trip touches-is pure hip hop." —Alan Light, Editor-in-Chief, Spin
"Essential brain-food for hungry hip hoppers." —Selwyn Seyfu Hinds, Editor-in-Chief, The Source
"A wealth of useful information on one of the four elements of hip hop. Wow! Who had time for this?" —Danny Hoch
"The best book I've ever read-and I can't read!" —Chris Rock
St. Martin's Griffin, 9780312242985, 352pp.
Publication Date: December 3, 1999
About the Author
Sacha Jenkins—much like rap great KRS-One—is hip hip. Sachy-Sach, his sister Dominiqe, and their artistically inclined, Haitian-born mom-dukes, Monart, moved to Astoria, Queens, NY from Silver Springs, MD in the summer of 1977. Their Philadelphia, PA-reared, filmmaking/Emmy Award-winning pop-dukes, Horace, was already living up in NYC at the time (100th Street & Central Park West, to be exact . . . blocks away from the infamous Rock Steady Park). During the school week, young Sacha spent his post three o'clock days playing stickball and skelly. Then...
1980: Sacha was blessed by an elder with an instrument of destruction that would forever change his life. 'PK,' a local subway scrawler with some inter-borough celebrity, handed the young boy a very juiced-up Pilot magic marker.
1988: Inspired by a the International Graffiti Times (a rag published by aerosol legend Phase 2 and David Schmidlap), Sacha would put together Graphic Scenes & X-plicit Language—a zine dedicated to, yep, graf. And poetry. And anti-Gulf War rants. And humor. And towards the end, in 1991, music.
1992: Beat Down, America's first hip hop newspaper, is launched by Sacha and a childhood friend. Ten issues in, Sacha and childhood friend have a falling out. Bye bye, Black bird.
June, 1994: ego trip magazine is born.
1996: Sacha writes for Vibe, Rolling Stone and Spin. He gets a Writer-At-Large then Music Editor gig at Vibe.
Present: In his spare time, Sacha likes to play guitar, collect Planet of the Apes action figures and listen to rap that isn't wack. He's a Leo.
In the summer of 1992, armed with his worthless LaGuardia Community College Associate Arts Degree, mulatto-born Elliot Wilson attempted to connect with The Source to no avail. Frustrated and full of half-Black rage, Wilson vowed to one day show his smarmy colleagues in the world of hip hop journalism what a tragic mistake they had made.
Befriending fellow W.C. Bryant High School alum Sacha Jenkins and L.C.C. student Haji Akhigbade, Wilson became the Music Editor of the duo's burgeoning rap newspaper, Beat Down. After the trio disbanded in the fall of '93, Wilson encouraged Jenkins to give the publishing game another shot and the seasoned salt-and-pepper duo began to conceptualize ego trip.
Wilson soon realized, however, that one cannot eat off props alone. When not contributing toward ground-breaking ego trip scriptures, he actively freelanced for Vibe, Rap Pages, Rap Sheet, Time Out New York and Paper. In 1995, he endured a brief-but-successful stint as an Associate Editor at CMJ New Music Report where he solidified the indie rock trade rag's hip hop coverage.
But it was in 1996 that he would enjoy a particularly sweet payback when he was wooed from CMJ to become The Source's Music Editor. During his two-year tenure, he helped propel the already established publication to the country's top-selling music title.
From Q-borough underachiever to Big Willie publishing mogul and now author, Elliot Jesse Wilson Jr. is a living testament that dreams can and do come true.
Toiling for years as a truck-driving production assistant on the New York commercial filmmaking scene, New York University graduate Chairman Mao needed direction. An aspiring DJ, his addiction to acquiring wax had depleted his bank account. But in 1992, his chance meeting with an ambitious young publishing entrepreneur/film intern named Sacha Jenkins introduced an absurd solution to these fiscal woes—entering the world of music journalism! Mao began
contributing to Jenkins' Beat Down magazine in exchange for complimentary promotional copies of hip hop records. He couldn't believe his luck.
Mao eventually exploited this writing scam so well that he actually began earning rent money with his new vocation. While becoming a fundamental cog within Jenkins' and partner Elliot Wilson's next publishing foray, ego trip, Mao enlightened Rolling Stone, Spin, Entertainment Weekly and Vibe with his critical musings. Amongst his most noteworthy assignments: his guest editorship for Rap Pages' acclaimed DJ Issue in April of 1996 and his profile of The Notorious B.I.G. in April of 1997 for the cover of The Source shortly before the rapper's untimely death.
Currently ego trip's Editor-in-Chief and a Vibe Writer-at-Large, Mao still can't believe he possesses a job that doesn't require him to sweep floors and chauffeur ad agency assholes. When not clocking long-but-gratifying hours at et's NYC HQ, he can be found in a record store near you digging for archival additions to his now 20,000-piece strong record library.
Gabriel Alvarez was a long-haired, 20-year-old, L.A.-born Mexican with glasses trying to find a job in 1991. The odds were against him. Nobody wanted him. The only alternative? Intern for gratis at the latest magazine acquisition of Hustler publishing magnate Larry Flynt. Film Threat was a cool, anti-Hollywood, punk rock-type rag that gave the mainstream film press the kind of kick in the ass it needed. Alvarez quickly elevated to the position of Associate Editor.
Two years later, however, it was time to move on and Alvarez began working for another Flynt publication. Rap Pages was a hip hop mag that needed new creative energies to help it realize its potential. As Managing Editor, Alvarez expelled plenty of blood, sweat and tears and featured special graffiti, DJ and breakdance issues that intrigued a growing readership. Another three years later, though, it was time to roll the dice again.
His next job opportunity came in 1996 in the enticing form of ego trip, an amazingly creative magazine outta New York City, that made him an offer he couldn't refuse: a Managing Editor position demanding lots of hard work but no money. Displaying the sage decision-making skills that have guided his entire career, Alvarez immediately packs his bags and heads for the Rotten Apple. He begins freelancing extensively for The Source and Vibe. His status as an important critical voice grows. He even cuts his hair. He couldn't be happier. Or more broke.
Alternately known as Asparagus, Prima, Gor-gee, Half-Black, Kinda-Black, Brent Rollins or Milton Reese (depending on the time of day), Brent Rollins, et's full-time Art Director and part-time scribe, is the original "Afrocentric Asian, half man/half-amazin'."
But whatever he's called, he's called often by the entertainment biz. Before graduating from UCLA with a BFA, Rollins had the fortunate opportunity to cut his teeth designing logos for films like Spike Lee's Mo' Better Blues and John Singleton's Boyz N The Hood as well as interning at Fattal And Collins Design & Advertising. He punctuated his college career by creating graphics for a FOX Network variety show, revamping the identity for TV's historic Soul Train and
studying for a French exam all during his senior finals week. C'est incroyable!

However, it was his subsequent two-year bid (1994-1996) as Art Director for Rap Pages magazine which honed Rollins' talents. Since then, he's serviced clients such as Miramax Films, ICM, A&M, Mo' Wax and SoleSides Records. Along the way, he's also created art for the Pharcyde, The Notorious B.I.G., Gang Starr, Sir Menelik, Black Star and The Refugee Project charity organization. Between maintaining the 24/7 grind that has put food on his table and made his mom proud, the design veteran continues to champion the maligned and forgotten genre of "weirdo-rap." Big time.
or
Not Currently Available for Direct Purchase