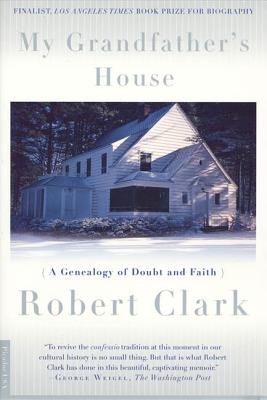 My Grandfather's House (Paperback)
A Genealogy of Doubt and Faith
Picador, 9780312243142, 304pp.
Publication Date: October 6, 2000
* Individual store prices may vary.
Description
Finalist, Los Angeles Times Book Prize for Biography
In the tradition of Augustine's Confessions, Robert Clark tells the story of his return to the Catholic Church through the prism of the religious history of his ancestors. Intertwining their experiences as Catholics in late-medieval England, as Puritan settlers in 17th Century New England, and as 19th Century New England transcendentalists with his childhood in an Episcopalian boarding school and later conversion to Roman Catholicism, Clark presents not only a memoir but a testament of faith.
About the Author
Robert Clark is the author of the novels In the Deep Midwinter and Mr. White's Confession, and River of the West, a cultural history of the Columbia River (all Picador), and The Solace of Food, a biography of James Beard. A native of St. Paul, Minnesota, he lives in Seattle with his wife and two children.
Praise For My Grandfather's House: A Genealogy of Doubt and Faith…
"To revive the confessio tradition at this moment in our cultural history is no small thing. But that is what Robert Clark has done in this beautiful, captivating memoir." —George Weigel, The Washington Post
"In this rare work of personal narrative that truly achieves historical significance, Robert Clark's family becomes our own. A fascinating work of history as well as a moving, and often hilarious, account of his own religious struggles, My Grandfather's House immediately presents itself as one of the rare American autobiographies that will endure." —Patricia Hampl, author of A Romantic Education
"For those not sure what to make of the God question, Clark has given us a rock-solid place . . . to start. Though we might find a different resolution from his, his search parallels our own: how to gain peace, where to find faith, and what to pass on to our children, who will face the same age-old questions in the new millennium." —Mary Ann Gwinn, The Seattle Times
"This is an odd platypus of a book, a dreamlike hybrid stitched together from half a dozen literary species including autobiography, intellectual and social history, literary criticism and Sunday school sermon. Like a platypus, it is gawky and beautiful, cuddly and off-putting and curiously compelling." —Philip Zaleski, The New York Times Book Review
"Elegantly written and historically informative, My Grandfather's House is a fascinating, passionate, and inspiring spiritual autobiography." —Ron Hansen, America
"An imaginative spiritual autobiography . . . The book is a true 'genealogy' in the sense that Clark traces many diverse religious manifestations through five centuries of his own family history." —Kirkus Reviews