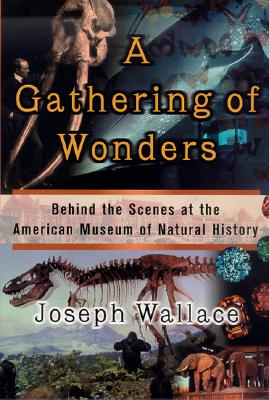 A Gathering of Wonders (Hardcover)
St. Martin's Press, 9780312252212, 288pp.
Publication Date: June 1, 2000
* Individual store prices may vary.
or
Not Currently Available for Direct Purchase
Description
Since it was founded in 1869, the American Museum of Natural History has stood as one of the world's greatest repositories of scientific information and investigation. This delightful book takes us behind the exhibits and shows us some of the great researchers and fabulous objects from the Museum's past and present, ranging through every department and focusing on fabulous tales and fascinating objects, both small and large, including:

* the famous Oviraptor eggs unearthed in the Gobi desert.
* the stunning new Hall of Biodiversity, whose trees hold 411,000 model leaves
* the 563-carat Star of India sapphire and the 632-carat Patricia emerald
* Katharine Burden's hunt for the Komodo dragon : "Women Huntress Revolts Against Playing Safe---Kills Huge 'Malay Dragon' "
* the epic saga of the huge blue whale model

This book offers a backstage tour through the halls and history of the Museum, venturing into ornithology, invertebrates, zoology, entomology, herpetology, and other disciplines, celebrating the treasures and the scientists responsible for bringing them to the light of day. Museum-goers will find their enjoyment enhanced by the wonderful anecdotes and insights, and armchair travelers will find the back-scenes tour enriching and enlightening.
About the Author
Joseph Wallace has written numerous books on science and natural history, including "The American Museum of Natural History's Book of Dinosaurs and Other Ancient Creatures, The Arctic, "and "The Deep Sea." An adventurer at heart, he has been menaced by leopards in the midst of African game parks, canoed through rainforests, and even stumbled upon the wreck of a World War II fighter jet in Papua, New Guinea during the course of his career as a writer. He lives with his family in New York State.
Praise For A Gathering of Wonders…
"I can't begin to enumerate all the riches, tidbits, stories, information, personalities, gossip, and love of science embraced by this fascinating volume about the Museum and its collections, its history, and all its backroom maneuverings. For me, it was as pleasurable to tag along with Joseph Wallace (and all the curators, anthropologists, archeologists, paleontologists, geologists, entymologists, ornithologists, icthyologists, astronomers, oceanographers, taxidermists, mammalogists, titi monkeys, Komodo dragons, pectinoids, bowerbirds, coelacanths, and velociraptors found in these pages) as it had been, back in my wondrous childhood, to cavort behind Pop and Grandpa as they revealed to me the secrets and mysteries of the natural world."
---John T. Nichols, author of The Milagro Beanfield War, from his Foreword
Advertisement