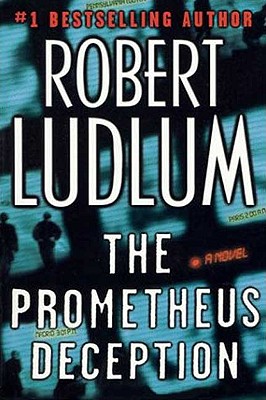 The Prometheus Deception (Hardcover)
St. Martin's Press, 9780312253462, 384pp.
Publication Date: August 4, 2009
* Individual store prices may vary.
or
Not Currently Available for Direct Purchase
Description
Robert Ludlum is the acknowledged master of suspense and international intrigue. For over thirty years, in over twenty international bestsellers, he has a set a standard that has never been equaled. Now, with the Prometheus Deception, he proves that he is at the very pinnacle of his craft.

Nicholas Bryson spent years as a deep cover operative for the American secret intelligence group, the Directorate. After critical undercover mission went horribly wrong, Bryson was retired to a new identity. Years later, his closely held cover is cracked and Bryson learns that the Directorate was not what it claimed - that he was a pawn in a complex scheme against his own country's interests. Now, it has become increasingly clear that the shadowy Directorate is headed for some dangerous endgame - but no one knows precisely who they are and what they are planning. With Bryson their only possible asset, the director of the CIA recruits Bryson to find, reinfiltrate, and stop the Directorate. But after years on the sidelines, Bryson's field skills are rusty, his contacts unreliable, and his instincts suspect.

With everything he thought he knew about his own life in question, Bryson is all alone in a wilderness of mirrors - unsure what is and isn't true and who, if anyone, he can trust - with the future of millions in the balance.
About the Author
Robert Ludlum is the author of twenty-two novels published in thirty-two languages and forty countries. Read by hundreds of millions world-wide, his books include "The Scarlatti Inheritance, The Chancellor Manuscript, The Acquitaine Progression, The Icarus Agenda," and "The Bourne Identity." He divides his time between homes in Florida and Montana.
Praise For The Prometheus Deception…
"Rarely has any writer of espionage novels come up with such an ambitious design that churns on so many levels." --Chicago Tribune

"Explosive."--San Francisco Chronicle

"Reading a Ludlum novel is like watching a James Bond film: The action is so slickly paced, the political details so all-consuming, the weapons and women so blatantly steeped in sex appeal...all in the name of discovering a truth that involves complicated weapons, wiley governments, and buxom blondes. Hey, works for us."
-Rebecca Ascher-Walsh, Entertainment Weekly

"[Ludlum's] most ingenious novel yet.... In just a few scenes...Ludlum instills a year's worth of Harvard Business Reviews, and provides a dead-on picture of contemporary corporate strategy.... Ludlum has been among the very few novelists who have taken the trouble and write about such market forces. Two hundred million copies later, the market has returned the compliment."
- The New Yorker

"A spy thriller that should keep even the most experienced readers guessing...the pace is fast, the action plentiful...a must-read."
- Booklist

"Echoing le Carre and Graham Greene... [Ludlum's] best thriller yet!
- Kirkus Reviews

"After 22 novels, Ludlum delivers yet again a topnotch international thriller sure to please fans of popular entertainment....This is a rousing thriller with all the trademarks of a Ludlum best seller--heart-pounding chase scenes, devastating double-crosses, gut-wrenching twists, fast-paced action, fierce confrontations, pressure that ratchets up to an explosive conclusion, and as always, authentic international locales, high-tech gadgetry, and sophisticated spycraft."
- Library Journal
Advertisement