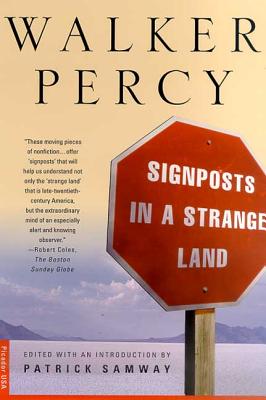 Signposts in a Strange Land (Paperback)
Essays
Picador, 9780312254193, 448pp.
Publication Date: April 1, 2000
* Individual store prices may vary.
Description
At his death in 1990, Walker Percy left a considerable legacy of uncollected nonfiction. Assembled in Signposts in a Strange Land, these essays on language, literature, philosophy, religion, psychiatry, morality, and life and letters in the South display the imaginative versatility of an author considered by many to be one the greatest modern American writers.
About the Author
Walker Percy wrote several books, many of them bestsellers, and is considered one of the greatest American writers of our time. His books include The Moviegoer and Love in the Ruins.
Praise For Signposts in a Strange Land: Essays…
"These moving pieces of nonfiction, some quite brief and terse, others more relaxed and spacious, offer 'signposts' that will help us understand not only the 'strange land' that is late-20th-century America, but the extraordinary mind of an especially alert and knowing observer." —Robert Coles, Boston Sunday Globe
"Tart, lively, and likeable. You come away admiring not only the writer's sense and sensibility, his sophistication and intelligence, but, more important, his wisdom and courage." —George Core, The Washington Post Book World
"Percy is always intelligent, always civilized, never blind to his opponents' point of view." —Evelyn Toynton, The New York Times Book Review
"Remarkably revealing . . . Signposts shows Percy in all of his moral and intellectual grandeur . . . What shines through, however, is Percy's fundamental decency, his compassiona for the human predicament, and his abundant love for humanity." —Jonathan Kirsch, Los Angeles Times