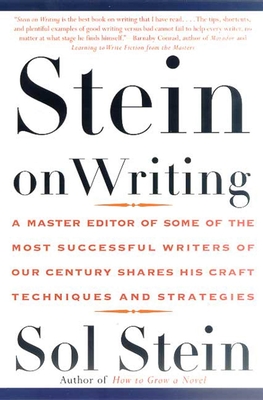 Stein on Writing (Paperback)
A Master Editor of Some of the Most Successful Writers of Our Century Shares His Craft Techniques and Strategies
St. Martin's Griffin, 9780312254216, 320pp.
Publication Date: January 25, 2000
* Individual store prices may vary.
Description
Stein on Writing provides immediately useful advice for all writers of fiction and nonfiction, whether they are newcomers or old hands, students or instructors, amateurs or professionals. As the always clear and direct Stein explains here, "This is not a book of theory. It is a book of usable solutions--how to fix writing that is flawed, how to improve writing that is good, how to create interesting writing in the first place." With examples from bestsellers as well as from students' drafts, Stein offers detailed sections on characterization, dialogue, pacing, flashbacks, trimming away flabby wording, the so-called "triage" method of revision, using the techniques of fiction to enliven nonfiction, and more.
About the Author
Sol Stein is the author of several novels, including the million-copy bestseller The Magician. As an editor, his authors included James Baldwin, Jack Higgins, and many others. Stein has lectured widely on creative writing, and was given the Distinguished Instructor Award by the University of California at Irvine in 1993. His columns appear regularly on America Online and elsewhere.
Praise For Stein on Writing: A Master Editor of Some of the Most Successful Writers of Our Century Shares His Craft Techniques and Strategies…
"The best book on writing that I have read . . . The tips, shortcuts, and plentiful examples of good writing versus bad cannot fail to every writer, no matter at what stage he finds himself."—Barnaby Conrad, author of Matador and Learning to Write Fiction from the Masters

"Stimulating . . . Offers a banquet of savvy advice. Unlike Anne Lamott, et al., Stein aims not to help his readers wrestle with writerly anguish; rather, he gets on the page, citing examples from writers famous and fledgling, closely analyzing first sentences, creation of character, plotting, and dialogue . . . Stein concentrates more on fiction—point of view and the creation of love scenes—but his advice on such issues as self-editing and choosing a title applies also to nonfiction. A section on nonfiction contains worthy remarks about adapting fictional techniques (suspense, visual particularity, etc.)."—Publishers Weekly

"This book can jump-start anyone's creativity. Highly recommended for all writing collections."—Library Journal

"My publisher Sol Stein was my producer, and editor Sol Stein was my director. Stein saw what I didn't think possible."—Elia Kazan

"[Stein] went over my manuscript with an ifallible eye for the soft spots in my prose, giving me one of the best editorial readinds I've ever had."—Lionel Trilling