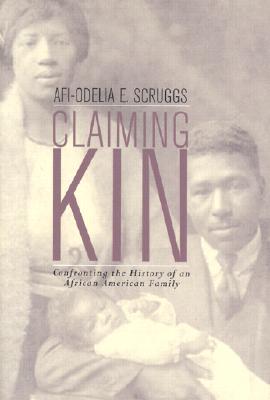 Claiming Kin: Confronting the History of an African American Family (Hardcover)
Confronting the History of an African American Family
St. Martin's Press, 9780312261351, 224pp.
Publication Date: February 1, 2002
* Individual store prices may vary.
or
Not Currently Available for Direct Purchase
Description
A touching story of a woman's search for her family roots in the wake if the sudden death of her father.

Claiming Kin is a powerful and compelling story about a woman's quest to search out her roots upon the death of the father she barely knew. A former journalist hungry for the truth, her search into the past leads her from her hometown in Nashville, Tennessee, back to the birthplace of the Scruggs in nearby Williamson County. There she traces the family back to 1847 and the Scruggs Farm where her ancestors were once slaves. Her journey soon becomes spiritual and emotional, forcing her not only to examine her own beliefs in the importance of family, but also her religious beliefs as she turns toward honoring her ancestors. This is a tale that will capture the heart and mind.
About the Author
Afi-Odelia E. Scruggs graduated from the University of Chicago and earned her Ph.D in Slavic Linguistics from Brown University. She has been a full-time journalist since 1987. She is currently a visiting assistant professor of journalism at Ohio Wesleyan University in Delaware, Ohio. She was a metro columnist for the "Cleveland Plain-Dealer" and has worked for the "Dayton Daily News" and the "Clarion-Ledger." She lives in South Euclid, Ohio with her husband. She is also the author of the children's picture book, "Jump Rope Magic."
Praise For Claiming Kin: Confronting the History of an African American Family…
"Researching her family history after the death of her father, Scruggs came across the following entry in a 19th-century Mississippi county assets census: '1 pair waffle irons, 2 washing tubs, one wagon (sic) one carriage, eleven plows, one grinding hoe Also the Following Negroes, via Lynda and her children': it was there that she discovered her grandfather. This moving, beautifully written memoir charts Scruggs's uncovering of her family history and her own, as well as the resolution of her conflicted feelings about her critical, domineering parents and her awakening into a new spiritual life more closely associated with African traditions. In the process of weaving these three strands, Scruggs tells stories about her kin, including how her 15-year-old uncle was shot and killed by a white store owner. She can be ironic describing how in her 1960s Nashville childhood (she could not understand why the water in the fountain marked 'colored water' looked no different from what was dispensed in other fountains ) or can simply convey her pain and confusion after discovering that she cannot buy an Afro-comb when she is studying Russian at Middlebury College in Vermont. After training for an academic career in Slavic languages, Scruggs ended up a journalist, and her search into her past triggers a calling (in the form of dreams) to African spiritual practice. With an ear finely attuned to language and emotions, and an investigative reporter's sense of driven narrative, Scruggs has written a book that explores and clarifies both the personal and the political."—Publishers Weekly
Advertisement