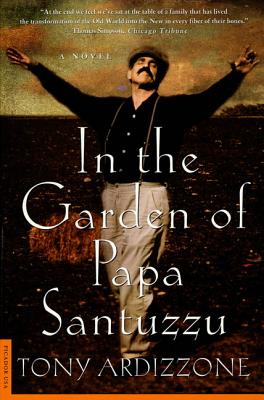 In the Garden of Papa Santuzzu (Paperback)
A Novel
Picador, 9780312263416, 352pp.
Publication Date: July 7, 2000
* Individual store prices may vary.
Description
In the Garden of Papa Santuzzu is a magical, warm, and wise novel about a close-knit family's immigration from Sicily to America in the early 1900s. Wanting more for their children and grandchildren than a lifetime of servitude in the fields of a tyrannical Sicilian landlord, Papa Santuzzu and his wife, Adriana, push their seven sons and daughters, one by one, to immigrate to La Merica, a land of promise and opportunity. Here is a rich and vibrant novel about the stories families tell each other, stories that make up a deeply personal and a common history.
About the Author
Tony Ardizzone, a native of Chicago, is the author of five previous books of fiction, including Heart of the Order and Larabi's Ox: Stories of Morocco. His work has received the Flannery O'Connor Award for Short Fiction, the Pushcart Prize, the Friends of Literature's Chicago Foundation Award for Fiction, and the Milkweed National Fiction Prize, among other honors.
Praise For In the Garden of Papa Santuzzu: A Novel…
"The author must have sat at the knees of beloved grandmothers and aunts to learn these tales....At the end we feel we've sat at the table of a family that has lived the transformation of the Old World into the New in every fiber of their bones." —Thomas Simpson, Chicago Tribune
"Lusty, whimsical, and reverent...Like tributaries into a slow and relentless river, [the Santuzzus'] stories merge with Old World folk tales, Catholic miracle lore and the darker realities of American history." —Dan Carpenter, The Indianapolis Star
"Robust, beguiling...rich with fable and folklore and religion." —Publishers Weekly
"Fascinating...reads as if told by ghosts around an open fire." —Library Journal