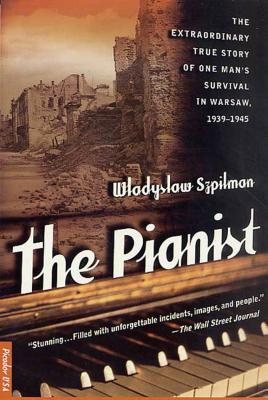 The Pianist (Paperback)
The Extraordinary True Story of One Man's Survival in Warsaw, 1939-1945
Picador, 9780312263768, 224pp.
Publication Date: September 2, 2000
Other Editions of This Title:
Paperback (12/1/2002)
Hardcover (9/1/1999)
* Individual store prices may vary.
Description
Named one of the Best Books of 1999 by the Los Angeles Times, The Pianist is now a major motion picture directed by Roman Polanski and starring Adrien Brody (Son of Sam). The Pianist won the Cannes Film Festival's most prestigious prize—the Palme d'Or.
On September 23, 1939, Wladyslaw Szpilman played Chopin's Nocturne in C-sharp minor live on the radio as shells exploded outside—so loudly that he couldn't hear his piano. It was the last live music broadcast from Warsaw: That day, a German bomb hit the station, and Polish Radio went off the air.
Though he lost his entire family, Szpilman survived in hiding. In the end, his life was saved by a German officer who heard him play the same Chopin Nocturne on a piano found among the rubble. Written immediately after the war and suppressed for decades, The Pianist is a stunning testament to human endurance and the redemptive power of fellow feeling.
About the Author
Wladyslaw Szpilman was born in 1911. He studied the piano at the Warsaw Conservatory and at the Academy of Arts in Berlin. From 1945 to 1963, he was Director of Music at Polish Radio, and he also pursued a career as a concert pianist and composer for many years. He died in Warsaw in 2000. The film version of his memoir, The Pianist, was the winner of the Palme d'Or at the 2002 Cannes Film Festival.
Praise For The Pianist: The Extraordinary True Story of One Man's Survival in Warsaw, 1939-1945…
"Stunning . . . Filled with unforgettable incidents, images, and people." —The Wall Street Journal
"Remarkable . . . a document of lasting historical and human value." —The Los Angeles Times
"Historically indispensible." —Washington Post Book World
"The Pianist is a great book." —The Boston Globe
"Even by the standards set be Holocaust memoirs, this book is a stunner." —Seattle Weekly
"A stunning tribute to what one human being can endure, The Pianist is even more--a testimony to the redemptive power of fellow feeling." —The Plain Dealer
"Distinguished by [Szpilman's] dazzling clarity . . . Remarkably lucid." —Publishers Weekly (starred review)
"A striking Holocaust memoir that conveys with exceptional immediacy and cool reportage the author's desperate fight for survival." —Kirkus Reviews
"The Pianist is a book so fresh and vivid, so heartbreaking, and so simply and beautifully written, that it manages to tell us the story of horrendous events as if for the first time . . . an altogether unforgettable book. " —The Daily Telegraph
"Wladyslaw Szpilman's memoir of life in Nazi-occupied Warsaw and the Jewish ghetto has a singular vividness. All is conveyed with an understated intimacy and dailiness that render them painfully close." —The Observer
"It is all told with a simple clarity that lodges the story in one's stomach through a mixture of disgust, terror, despair, rage, and guilt that grips the reader almost gently. " —The Spectator
"Illuminates vividly the horror that overcame the Polish people. Szpilman's account has an immediacy, vivid and anguished." —The Sunday Telegraph