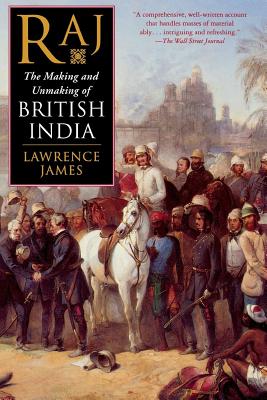 Raj
The Making and Unmaking of British India
Paperback

* Individual store prices may vary.
Description
In less that one hundred years, the British made themselves the masters of India. They ruled for another hundred, leaving behind the independent nations of India and Pakistan when they finally withdrew in 1947. Both nations would owe much to the British Raj: under its rule, Indians learned to see themselves as Indians; its benefits included railways, roads, canals, schools, universities, hospitals, universal language and common law.
None of this, however, was planned. After a series of emergencies in the eighteenth century transformed a business partnership-the East India Company-into the most formidable war machine in Asia, conquest gathered its own momentum. Fortunes grew, but, alongside them, Britons grew troubled by the despotism that had been created in their name. The result was the formation of a government that balanced firmness with benevolence, and had as its goal the advancement of India.
But the Raj, outwardly so monolithic and magnificent, always rested precariously on the goodwill of Indians. In this remarkable exploration of British rule in India, Lawrence James chronicles the astonishing heroism that created it, the mixture of compromise and firmness that characterized it, and the twists and turns of the independence struggle that ended it.
" … James presents a consistently intriguing take on a deeply complicated history." - Publishers Weekly
St. Martin's Griffin, 9780312263829, 768pp.
Publication Date: August 12, 2000
About the Author
Lawrence James studied History and English at York University and subsequently undertook a research degree at Merton College, Oxford. Following a career as a teacher, he became a full-time writer in 1985, and is the author of The Golden Warrior: The Life and Legend of Lawrence of Arabia, Imperial Warrior: The Life and Times of Field Marshal Viscount Allenby, and the acclaimed Raj: The Making and Unmaking of British India. He now lives in St. Andrews.