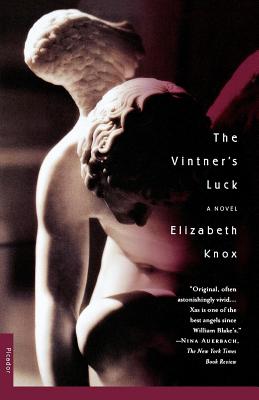 The Vintner's Luck (Paperback)
St. Martins Press-3pl, 9780312264109, 288pp.
Publication Date: August 5, 2000
Description
One summer night in 1808, Sobran Jodeau sets out to drown his love sorrows in his family's vineyard when he stumbles on an angel. Once he gets over his shock, Sobran decides that Xas, the male angel, is his guardian sent to counsel him on everything from marriage to wine production. But Xas turns out to be a far more mysterious character. Compelling and erotic, The Vintner's Luck explores a decidedly unorthodox love story as Sobran eventually comes to love and be loved by both Xas and the young Countess de Valday, his friend and employer at the neighboring chateau.
About the Author
Elizabeth Knox is the author of five books, but The Vintner's Luck is her first novel to be published outside of her native New Zealand. She lives with her family in Wellington.
Praise For The Vintner's Luck…
"Original, often astonishingly vivid...Xas is one of the best angels since William Blake's."--Nina Auerbach, The New York Times Book Review

"Daringly exploring the spiritual worth of sesnual pleasure, New Zealand writer Knox's imaginative, imagistic tale soars."--Entertainment Weekly

"Rich prose and an original plot...a delightful, thought-provoking read."--Robin Vidimos, The Denver Post

"Strangely compelling...multilayered and challanging...[The Vintner's Luck] is not your typical angel story."--David Tedhams, The Washington Post Book World

"Elizabeth Knox spreads her odd and original gossamer over many things....[Her] imagination resembles one of those Burgundy slopes, mysteriously sunned and fed, that produces a vintage unlike any other."--Richard Eder, Los Angeles Times Book Review
Advertisement