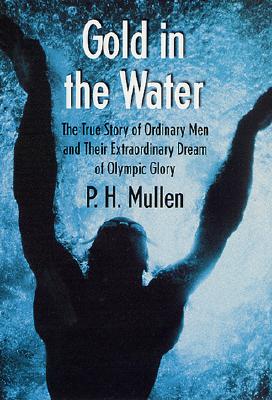 Gold in the Water (Hardcover)
The True Story of Ordinary Men and Their Extraordinary Dream of Olympic Glory
Thomas Dunne Books, 9780312265953, 352pp.
Publication Date: November 1, 2001
Other Editions of This Title:
Paperback (2/25/2003)
* Individual store prices may vary.
Description
"'Oh my God, is this really happening?!'

It was halfway through the 200-meter breaststroke finals at the 1998 World Championships and the rookie was gliding four feet beneath the water's wind-rumpled surface. Above him, 15,000 spectators were screaming encouragement and millions more were watching on live international television. All of them could see what the rookie and the seven other finalists could not: the actual race as it unfolded.

Underwater, the swimmer stole a peek down the length of the pool. That quick glance may have very well changed the course of a career, for from then on, nothing would ever be the same for this athlete. A bucket of adrenaline dumped into his gut and flooded his arms and legs. He wanted to laugh and shout in joyful surprise. Is there any greater joy than feeling unbridled power course through the body at the exact instant it is most needed?
The swimmer burst to the surface and began his first stroke with a ferocious arm sweep..."

So begins Gold in the Water, the highly acclaimed and mesmerizing tale about the remarkable two-year journey an elite team of swimmers takes to the 2000 Olympic Games.
Decades ago, northern California's aged Santa Clara Swim Club, the birthplace of modern swimming, was home to nearly every U.S. Olympic swimmer. Now, after years of irrelevance, a distinctly American renewal is taking place there. In the water, race a young protégé and an older mentor, two best friends who have emerged as the world's two best breast strokers. As they wrestle with their increasingly complex rivalry, around them swim some of the world's most talented athletes. There is a long-retired starlet who has returned to her sport for unexplained reasons and is engineering one of the most remarkable comebacks in sports history. There is an enigmatic butterflyer systematically removing emotion from his Olympic journey while engineering a plan to join his famous father in Olympus. With them is a troubled back stroker, a man with preternatural talent who despises his sport even as he is proclaimed a future Olympic hero. Overseeing their journey is one of the most explosive and passionate coaches in American sports. At turns both brilliant and unbearable, swimming's bete noire knows the 2000 Olympics represent a final chance to restore a tarnished reputation and banish long-buried demons.

The spellbinding narrative follows the sport's biggest stars as well as its unheralded darkhorses on their incredible march to the Olympics. Seamlessly weaving together escalating rivalries, unexpected setbacks, profound sorrows and incredible joys, the book captures like none before it the true passion and grit that the pursuing greatness requires. Meet the biggest stars of the 2000 Olympics, as well as the ordinary heroes chasing an elusive dream. Their shared story will permanently change how we see the Olympic athlete.

Boldly sweeping in its literary power and pace, Gold in the Water has been called "a cross between the New Yorker and Chariots of Fire." With exquisite precision, first-time author P.H. Mullen creates a fascinating world of suspense and emotion, where the human desire for excellence rules over all and where there are no second chances for glory. Above all, Gold in the Water is about the triumph of the human spirit.
About the Author
P.H. Mullen has written for numerous publications, including "Sports Illustrated, Travel & Leisure, USA Today and the Washington Post." He also holds one of history's fastest times swimming the English Channel. Mr. Mullen graduated from Dartmouth College and lives in northern California with his wife and daughter. "Gold in the Water "is his first book.
or
Not Currently Available for Direct Purchase